Chats start at 10 a.m. in the Gromme Theater, located on the Museum's first floor.
$3 with Museum admission
Join MPM's staff of experts as they share current research and projects in their particular field of study, and engage with them during Q&A segments. Through the use of remote technologies you'll also get a behind the scenes look into their labs and get up close with the objects and artifacts central to their work.
Chat Topics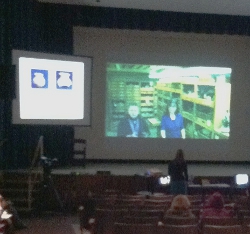 October 31, 2013 – If you Find a Rock
Bring your favorite rock to MPM to learn what a geologist does. Chat with MPM's geologist Patricia Coorough Burke about her research on Wisconsin's ancient Silurian Reef and discover how rocks tell stories!
November 21, 2013 – Buggy Science!
Ever wonder what a biologist might do at the Milwaukee Public Museum? Join biologist Susan Borkin for a tour of the Museum's "live" animal exhibits and a discussion about her research on some of Wisconsin's endangered species. Find out what the chatter is all about when it comes to bugs and butterflies at MPM.
January 30, 2014 – Fur, Feathers and Fins
Join award-winning MPM exhibit artist and taxidermist Wendy Christensen for a behind-the-scenes tour of her studio and discover what it's like to re-create all of the cool animals on display at the Museum.
February 27, 2014 - Herpetology: Lizards, Snakes, Frogs, Oh My!
Slither, crawl, or hop down to MPM to learn what a herpetologist does. Sit down and chat with herpetologist Ellen Censky of MPM about her research on amphibians and reptiles in the jungles of Belize and Paraguay and a deserted island in the Caribbean. You'll also discover why herps are important to a healthy planet.
March 27, 2014 - Talking Pots
Back by popular demand! Join Dr. Jocelyn Boor, archaeologist, as she examines pottery thousands of years old. Learn how she makes these pots talk and hear what they have to say. Uncover secrets thousands of years old as you roll up your sleeves and work side-by-side with Jocelyn to make pots talk!
April 24, 2014 - Star Gazing
Join MPM astronomer Bob Bonadurer for an interactive session about the heavens. Discover what we can learn from the stars, moons, and planets in our night sky!
May 22, 2014 - A Day in the Life of an MPM Collection Manager
What does a museum collection manager do? Join Julia Colby, MPM Collections Manager, to discover what kind of specimens the Museum's vertebrate and invertebrate collections contain, how these specimens are cared for, how they are stored, and how they are used in a Museum.