Beyond the Veil closed September 1, 2014.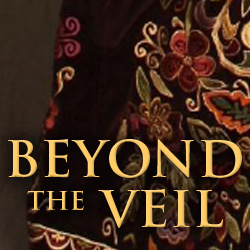 Beyond the Veil is a special exhibition created as a joint project between MPM and the Arab and Muslim Women's Research and Resource Institute (AMWRRI), showcasing the dress of Muslim women from the Milwaukee area and exploring some enduring traditions in Muslim clothing. This exhibit aims to expand public knowledge concerning the significance of cultural clothing beyond stereotypes, and to give women from the Milwaukee community an opportunity to speak about their experiences both here, and in the diverse societies of their ethnic descent.
This exhibit, supported by a grant from the Wisconsin Humanities Council, features 30 traditional outfits, as well as various special occasion and day-to-day use items like table sets and jewelry, owned by local women with strong ethnic ties to countries ranging from Jordan, Palestine, and Kuwait, to Morocco, India, and Pakistan.
Beyond the Veil caps a four-year-long project led by AMWRRI dedicated to the study of the attitudes toward cultural clothing among the Muslim and Arab women of the Milwaukee area. Testimonies gathered here highlight the importance of cultural clothing and its meanings to Arab and Muslim women who migrated from various Muslim countries, and illustrate how women from different generations continue to recreate and adapt elements of their cultural dress to meet modern tastes.
Promote Title
NOW ON EXHIBIT
Promote Text
A look at Muslim tradition through clothing of Muslim and Arab women. Through September 1, 2014.