We're exploring the space where science and culture intersect, and we're doing it over drinks.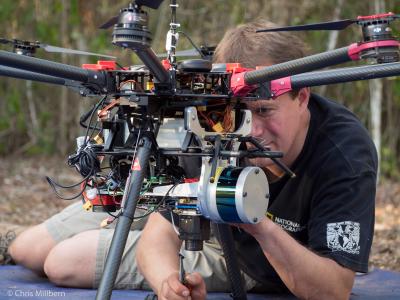 Grab a brew and pull up a chair for Science on Tap with Corey Jaskolski!
Date and Time
Thursday, February 21, 2019
6:00 p.m. social hour with bar, snacks, and trivia
7:00 p.m. lecture
Cost
$5 members, $10 non-member
Buy Now
Members must log in to receive benefits.
Not a member? Join today! 
Details
Corey Jaskolski - Co-founder of Virtual Wonders, inventor, engineer, National Geographic Fellow, magazine photographer, AR and VR developer, and explorer
Corey  builds new technologies for exploring the world's most amazing natural and cultural places. His "day job" includes things like scuba-diving in the frigid waters of Antarctica, descending 12,500 feet  in a three-man sub to explore the Titanic, 3D-scanning the skulls of Maya human sacrifice victims, helicoptering in to remote sites in the Congo during an Ebola outbreak, digitizing the Tomb of Christ, and shark diving. The technologies needed for each of these jobs often doesn't exist, so Corey uses engineering, creative thinking, and a whole lot of luck to build specialized technical tools to use in these places!  In this presentation,  he will share some of his adventures and behind-the-scenes stories from a life on the edge. 
---
About the Speaker
Corey Jaskolski is an inventor, engineer, National Geographic Fellow, magazine photographer, AR and VR developer, and an explorer who specializes in creating technologies for some of the most challenging environments on Earth. He has degrees in physics, mathematics, electrical engineering, and computer science from MIT. Early in his career, he founded Hydro Technologies, an engineering company that specialized in building sensing and imaging solutions for the world's toughest environments. He holds numerous technology patents. Jaskolski's work often appears in National Geographic Magazine, online, in various television specials on PBS and the National Geographic Channels, in scientific journals, and in various international magazines. Jaskolski serves as a member of the board of directors at the Milwaukee Public Museum.