Get a taste of some of the great research happening in Milwaukee during our Lunch & Lecture presentations.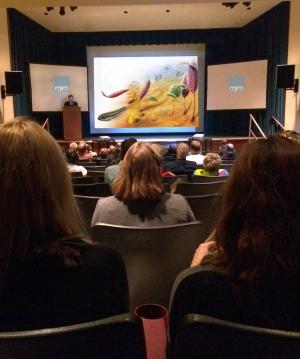 Take an optional guided pre-lecture docent tour, explore the topic du jour with an MPM curator or special guest, and if you're hungry for more, stay for a great lunch.
Lunch & Lecture DAY Schedule
Optional Docent Tour – 10:30 a.m., meet near the circular desk across from the Cafe
Lecture in Gromme Lecture Hall – 11:30 a.m.
Optional Buffet Lunch in Garden Gallery – 12:30 p.m.
Lunch & Lecture Tickets
Cost: $25 per person; $19 for members
Lecture Only: $5; FREE for members and students
Docent Tour: $4 per person; $2 for members. Tours are capped at 25 people.
Registration required - call 414-278-2728 to register
---
2019-2020 Lunch & Lecture series 
Check back this summer for info on our Fall lecture series!
---
Past Lunch & Lectures
May 14, 2019 - "'Lumos!' Taxonomy and Biology of Wisconsin Fireflies"
Dr. Daniel K. Young, Professor of Entomology and Director of Wisconsin Insect Research Collection (WIRC)
April 9, 2019 - "A Poisonous Mushroom in a New Country and the Genes It Carried with It"
Anne Pringle, Vilas Distinguished Achievement Professor, Departments of Botany and Bacteriology, University of Wisconsin-Madison
March 12, 2019 - "Handicrafts for Hard Times: The WPA Milwaukee Handicraft Project"
Jackie Schweitzer, History Collection Manager
February 12, 2019 - "The Bees of the Southern Lake Michigan Region: An Ecological and Faunistic Monograph"
 Laura Rericha-Anchor, Wildlife Biologist II at Forest Preserve District of Cook County
November 6, 2018 - "Tribute to Survival"
James Kelly,  Exhibit Director Emeritus
October 9, 2018 - "A History of Native American Policy and Activism:  From the American Indian Movement to Today"
Heather Bruegl,  member of the Oneida Nation of Wisconsin
May 8, 2018 - "BioBlitz: Helping to Map the Biological Diversity of Urban Areas -- One Park at a Time"
Ellen J. Censky, PhD, Senior Vice President/Academic Dean
April 10, 2018 - "Next-Generation Natural History: From Collecting to Chemical Ecology in the Vampire Moths and Their Fruit-Piercing Relatives"
Jen Zaspel,  Research Curator of Zoology
March 13, 2018 -  "Mesoamerica and the Maya"
Carter Lupton, Curator Emeritus; formerly Head of Anthropology and History and Curator of Ancient History at MPM
November 14, 2017 - "Forget the Gentler Sex: Infamous Women Warriors in History"
Dawn Scher Thomae, Curator of Anthropology Collections

October 10, 2017 - "Aerial Warfare Between Bats and Moths"
Dr. Nicolas J. Dowdy, Postdoctoral Research Fellow 
May 9, 2017 - "Establishing Rice Cultivation in Wisconsin: A Long Term Vision"
Michael Schlappi, Ph.D, Professor of Biological Sciences, Marquette University
April 11, 2017 - "The Botany of Beverages"
Christopher Tyrrell, Ph.D, Botany Collection Manager, Milwaukee Public Museum
March 14, 2017 - "Banquet Milwaukee: A tummy rubbing view of Milwaukee celebratory food and drink "
Al Muchka, Curator of History Collections, Milwaukee Public Museum
February 7, 2017 - "Digitization: Mobilizing Past Collections for Future Science"
Alyssa Caywood, Collection Digitization Project Manager, and Julia Colby, Vertebrate & Invertebrate Collections Manager, Milwaukee Public Museum
And more!