Get a taste of some of the great research happening in Milwaukee during our Lunch & Lecture presentations.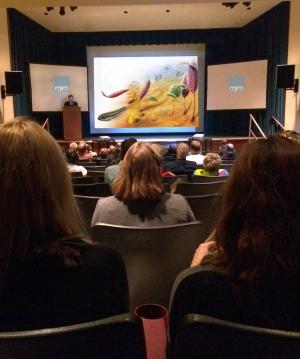 Take an optional guided pre-lecture docent tour, explore the topic du jour with an MPM curator or special guest, and if you're hungry for more, stay for a great lunch.
Lunch & Lecture DAY Schedule
Optional Docent Tour – 10:30 a.m., meet near the circular desk across from the Cafe
Lecture in Gromme Lecture Hall – 11:30 a.m.
Optional Buffet Lunch in Garden Gallery – 12:30 p.m.
Lunch & Lecture Tickets
Cost: $25 per person; $19 for members
Lecture Only: $5; FREE for members and students
Docent Tour: $4 per person; $2 for members. Tours are capped at 25 people.
Registration required - call 414-278-2728 to register
---
2018-2019 Lunch & Lecture series 
Handicrafts for Hard Times: The WPA Milwaukee Handicraft Project
March 12, 2019

Between 1935 and 1942, a Great Depression work program -- the WPA Milwaukee Handicraft Project -- hired thousands of workers to produce textiles, furniture, toys, and books that would be sold to public institutions throughout the United States. The Milwaukee Public Museum has the largest collection of products from this project. See original photographs, objects from the Museum's collection, and learn more about the artful designs of this unique Milwaukee project. Presented by Jackie Schweitzer, History Collection Manager at the Milwaukee Public Museum.

Lunch Menu: 
Soup - Rustic Root Vegetable
Sandwich - Artichoke Melt
Salad - Creamy Caesar
Dessert - Rhubarb crisp
A Poisonous Mushroom in a New Country and the Genes It Carried with It
April 9, 2019

Mushrooms in the genus Amanita are deadly poisonous. Commonly found in our Wisconsin forests and across North America, "Destroying Angels" and "Star Foots" may look harmless or even enticing, but when eaten, the mushrooms cause a painful death, for people and pets.  Anne Pringle, Vilas Distinguished Achievement Professor, Departments of Botany and Bacteriology, University of Wisconsin-Madison, will discuss the history of Amanita phalloides, or "Death Cap," in North America, including how deaths have alerted research to new sightings of the fungus, and explore recently generated data which seem to suggest toxin gene evolution is more dynamic than anyone has ever suspected.
Lunch Menu: 
Soup - Earthy Mushroom Bisque
Sandwich - Roast Beef, Swiss, Red Onions, Lettuce, and Cherry Compote
Salad - Vegetable Pasta
Dessert - Candied Apples
"Lumos!" Taxonomy and Biology of Wisconsin Fireflies 
May 14, 2019
What do we mean by "firefly"? Dr. Daniel K. Young, Professor of Entomology and Director of Wisconsin Insect Research Collection (WIRC), examines bioluminescence throughout the tree of life, how biological light is produced in fireflies, and its evolution and significance to the biology and natural history of fireflies. You'll also learn about the general decline in firefly populations in many parts of North America, and what you can do to help.
Lunch Menu:
Soup - Tomato Basil
Sandwich - Herb Chicken Salad on Croissant
Salad - Fruit
Dessert - Strawberry Shortcake
---
Past Lunch & Lectures
February 12, 2019 - "The Bees of the Southern Lake Michigan Region: An Ecological and Faunistic Monograph"
 Laura Rericha-Anchor, Wildlife Biologist II at Forest Preserve District of Cook County
November 6, 2018 - "Tribute to Survival"
James Kelly,  Exhibit Director Emeritus
October 9, 2018 - "A History of Native American Policy and Activism:  From the American Indian Movement to Today"
Heather Bruegl,  member of the Oneida Nation of Wisconsin
May 8, 2018 - "BioBlitz: Helping to Map the Biological Diversity of Urban Areas -- One Park at a Time"
Ellen J. Censky, Ph.D, Senior Vice President/Academic Dean
April 10, 2018 - "Next-Generation Natural History: From Collecting to Chemical Ecology in the Vampire Moths and Their Fruit-Piercing Relatives"
Jen Zaspel,  Research Curator of Zoology
March 13, 2018 -  "Mesoamerica and the Maya"
Carter Lupton, Curator Emeritus; formerly Head of Anthropology and History and Curator of Ancient History at MPM
November 14, 2017 - "Forget the Gentler Sex: Infamous Women Warriors in History"
Dawn Scher Thomae, Curator of Anthropology Collections

October 10, 2017 - "Aerial Warfare Between Bats and Moths"
Dr. Nicolas J. Dowdy, Postdoctoral Research Fellow 
May 9, 2017 - "Establishing Rice Cultivation in Wisconsin: A Long Term Vision"
Michael Schlappi, Ph.D, Professor of Biological Sciences, Marquette University
April 11, 2017 - "The Botany of Beverages"
Christopher Tyrrell, Ph.D, Botany Collection Manager, Milwaukee Public Museum
March 14, 2017 - "Banquet Milwaukee: A tummy rubbing view of Milwaukee celebratory food and drink "
Al Muchka, Curator of History Collections, Milwaukee Public Museum
February 7, 2017 - "Digitization: Mobilizing Past Collections for Future Science"
Alyssa Caywood, Collection Digitization Project Manager, and Julia Colby, Vertebrate & Invertebrate Collections Manager, Milwaukee Public Museum
And more!