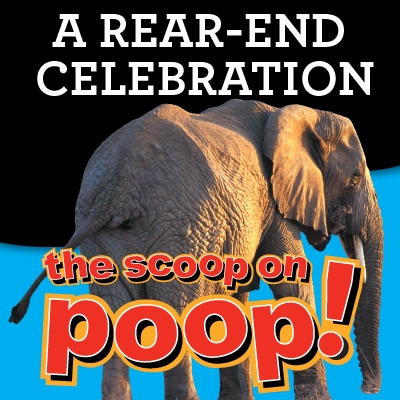 Exhibition Closed January 14, 2014.
Poop. Doo-doo. Dung. Number 2. No matter what you call it, you'll be able to learn all about it in The Scoop on Poop. Based on a popular children's book by the same name, The Scoop on Poop leads visitors on an investigation of what poop is and how animals and humans use it.
Animals use poop to build homes, hide from enemies, attract mates, send messages, and cool off - some even eat it. Veterinarians, farmers, naturalists, paleontologists, Maasai tribesmen and power companies use it too. Poop is a scientific puzzle. With a little detective work, you can learn a lot about an animal by what it leaves behind.
The Scoop on Poop is a fun, family-friendly exhibit featuring large colorful graphic panels, three-dimensional models, and interactive components. Visitors are invited to listen in on an animal's digestive system, learn the language of poop in countries around the world and even compete in dung beetle races!
Scoop on Poop Tickets
 

Members
Non-Members

MPM Admission + The Scoop on Poop + Dome Theater Show

Adult
$10.50
$26.00
Children (3-12) & Senior (60+)
$10.50
$22.00

MPM Admission + The Scoop on Poop

Adult
$4.50
$20.00
Children (3-12) & Senior (60+)
$4.50

$16.00
Buy Tickets Online Now!
* Tickets for today must be purchased over the phone at (414) 223-4676 or at the Museum Box Office.

Fun Facts
The Maasai and Samburu people of East Africa build huts of sticks and grass. To waterproof their houses, they cover the outside with a thick layer of cattle dung plaster.
A newborn white-tailed deer will not poop without a signal from its mother. While the fawn nurses, the mother nuzzles its rectum and immediately eats the droppings to get rid of the strong smells that might attract hungry predators.
Did you ever smell a daisy with an odor that was a little less than sweet? Smelling like dung helps these plants attract flies that pollinate their flowers.
Scoop on Poop Exhibit Sponsors
Major Support from Imogene P. Johnson and Helen Johnson Leipold
Contributing Support from the Camille A. Lonstorf Trust
Promote Title
Special Exhibition
Promote Text
Investigate poop and learn how animals and humans use it. Through January 14, 2014.