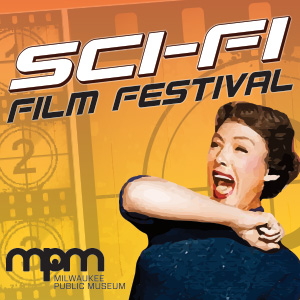 Join us in celebrating all things scientific, futuristic, or just plain weird during a Sci-Fi Film Fest featuring films voted "in" by you -- the viewer.  
The voters have spoken!
What film is the "Greatest Sci-Fi Turkey of All Time"? We asked you to vote on a film that's so bad you can't help but love it, to show as the finale of the film fest. The winner has received the "presidential pardon" of our president and CEO, Dennis Kois, and will show on November 29.
And the winner is...
Attack of the Killer Tomatoes!

---
Sci-Fi Film Fest Dates
Film 1: Jurassic Park
Thursday, October 23
Saturday, October 25
Film 2: E.T. The Extra-Terrestrial
Thursday, October 30
Saturday, November 1
Film 3: 2001: A Space Odyssey
Thursday, November 6
Saturday, November 8
Film 4: Planet of the Apes (1968)
Thursday, November 13 - *includes a special pre-show talk on artificial intelligence with author Paul McComas.
Saturday, November 15
Film 5: Back to the Future
Thursday, November 20
Saturday, November 22
Film 6: Attack of the Killer Tomatoes
No Film Thanksgiving Day
Saturday, November 29 
Times: Doors at 5:30 p.m., preview fun at 6 p.m., film at 6:30 p.m.
Tickets: Call (414) 278-2728 or purchase online »
Cost: $5
Fizzy soft drinks, frothy brews, and space-age cocktails and snacks will be available for purchase.
Promote Title
AT THE DOME THEATER
Promote Text
A film fest featuring movies voted "in" by you –- the viewer. Coming Soon!