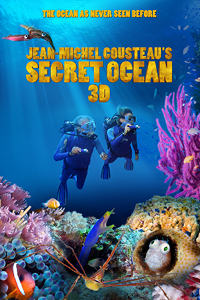 The ocean as never seen before!
Narrated by renowned oceanographer Dr. Sylvia Earle, Jean-Michel Cousteau's Secret Ocean 3D offers a breakthrough-look at a secret world within the ocean that is perhaps the biggest story of all -- that the smallest life in the sea is the mightiest force on which we all depend.
The Up Close and Personal tour series gives visitors a glimpse of members-only perks by exploring exhibit topics, artifacts, and related items from the Museum's collections up-close.
Don't miss these exclusive programs in our permanent exhibits and behind-the-scenes areas.

Cost:  $3 per person (MPM members only) - Join Today!
RSVP:  Call 414-278-6170 or 888-700-9069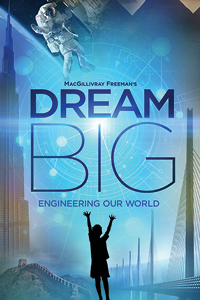 Dream Big: Engineering Our World is the first film of its kind for giant screen theaters that will transform how we think about engineering.

From the Great Wall of China and the world's tallest buildings, to underwater robots, solar cars, and sustainable cities, Dream Big celebrates the human ingenuity behind engineering marvels both big and small, and shows how engineers push the limits of innovation in unexpected and amazing ways. With its inspiring stories of human grit and aspiration, and extraordinary visuals for the world's largest screens, Dream Big reveals the compassion and creativity that drive engineers to create better lives for people and a more sustainable future for us all.
This Planetarium show explores the relationship between Earth, Moon, and the Sun with the help of Coyote, an amusing character adapted from Native American oral traditions. Coyote has many misconceptions about our home planet and its most familiar neighbors. His confusion about the universe makes viewers think about how Earth, Moon, and Sun work together as a system and learn to distinguish between myths and science.
Learn the basics of why the Sun rises and sets. Examine the Moon's orbit, craters, phases, and eclipses. You'll even take a look at past and future space travel to our Moon... and beyond! 
Think you know MPM's exhibits? Think again! Join these adults-only tours of your favorite exhibits and learn the stories our labels don't tell you.
Cost:  $5 per person plus Museum admission; $3 MPM members
Guests who take the MPM Exposed Tour must be 18+. Tour capacity is 16 people.  
Pre-registration is strongly encouraged. Tours fill up quickly!