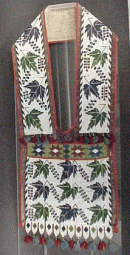 Region :
. Great Lakes Area
Material :
Glass beads, brass beads, velvet cloth, cotton ribbon, wool yarn, thread
This bag is has beadwork attached to a purple velvet material. The design includes maple leaves (in blue and green), berries, and geometric patterns. The shoulder strap and bag pattern are similar; the horizontal panel is geometric. The bottom is tabbed, with yarn tassels. The majority of the bag is trimmed in red ribbon.
Source :
Donated by J. Fletcher Harper. Unknown collector.