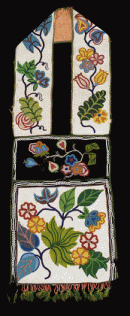 Region :
Devils Lake, Fort Totten Reservation, North Dakota
Material :
Glass beads, velveteen
This bag is fully beaded on the straps and pouch, on a black velvet backing, with a floral motif on a white bead background. The bottom is fringed with red beads on green and yellow yarn. An otter track design runs around the edges of the pouch and horizontal band.
Source :
Purchased (with funds from Mr and Mrs Richard Bourne of Whitefish Bay, WI.) from Rob Anderson of Ridgewood, IL, the collector.