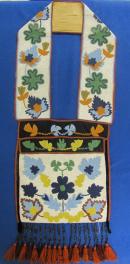 Region :
Western Great Lakes
Material :
Glass beads, muslin, velveteen, felt, wool yarn
This bag with full pocket has a spot-stitched beaded bottom panel with beaded tassels. The tassels are netted with strung black faceted beads and end in red and maroon yarn tassels. The mouth of the bag is constructed of panels of velveteen beaded in floral motifs and bordered with red twill tape. The beaded strap design is bilaterally symmetrical and spot stitched with similar floral motifs to those found on the bag. There is some bead loss and staining on the cotton lining on the back of the bag.
Source :
Purchased by Marion Werle Jaques and donated to the MPM by her family in her honor.