Make the Milwaukee Public Museum your field trip destination for the 2020-2021 school year with the MPM Field Trip Grant, supported by Kohl's.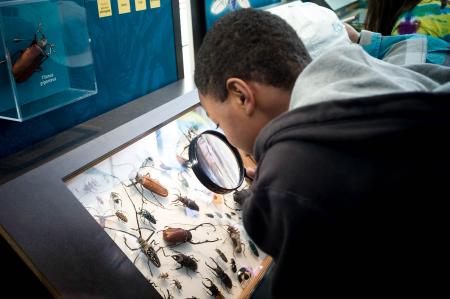 MPM is introducing a great opportunity for school districts around the state of Wisconsin to make their field trip destination more affordable and memorable! 
APPLYING FOR FUNDS
On March 1, 2020, we will begin accepting grant applications for MPM field trips that will occur between September 1, 2020 and June 15, 2021.
Eligibility Requirements and FAQs
Qualifying schools must be public schools or non-profit private schools with IRS 501(c)(3) status, located in Wisconsin. This grant is only intended for grades 5K - 12. 
Qualifying schools must have at least 40% of the student population qualifying for reduced and/or free lunches.
Grants are allocated on a first-come, first-served basis and will provide up to $1,500 in credit toward the cost of the Museum field trip. Any cost over the eligible amount must be covered by the school and cannot be covered by another MPM grant-funded program.
The funds of the grant can only be applied to admission, theater programming, education investigations, exhibit tours, and early learning programming. Funds cannot be awarded to eligible schools to cover bus fees. 
Milwaukee County schools are not eligible for the field trip grant if the requested month is during the free months (September - November). 
Qualified schools must reserve and confirm their field trip date to secure grant funds. 
Funded visits must occur by June 15, 2021.
Qualifying schools will be notified via email of awarded amounts, but must schedule and confirm the field trip to secure the funds, as they are on a first-come, first-served basis. 
Questions?
If you have additional questions, please email Tim Malenock at tim.malenock@mpm.edu.