Enjoy a great lunch and learn about what's happening in research during the Milwaukee Public Museum Lunch & Lecture speaker series.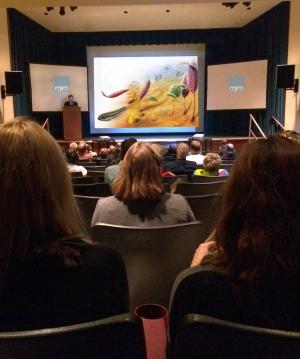 Check back for updates on the Spring 2022 schedule.
---
Past Lectures
May 18, 2021 - "DNA Sequencing, Morphometric Analysis, and Supercomputers: How Museums Are More like Star Trek Than Downton Abbey"
Dr. Christopher Tyrrell, MPM Adjunct Curator
April 13, 2021 - "Monarch Butterfly Biology and Conservation"
Karen S. Oberhauser, Director, UW-Madison Arboretum; Professor, Dept. of Entomology
March 9, 2021 - "Ruffled Feathers: The History and Art of MPM's Dromaeosaurid Models"
Patricia Burke, Curator of Geological Collections/Senior Collections Manager
February 9, 2021 - "The Archaeology of Dogs in the Western Great Lakes"
Richard (Rick) W. Edwards IV, PhD, RPA, Principal investigator for Commonwealth Heritage Group and an Honorary Fellow at UWM
November 10, 2020 – "Stereotypes, Biases, Myths, Oh My!"
Dr. Heather Ann Moody
October 20, 2020 - "Herstory at MPM"
Dawn Scher Thomae, MPM Curator of Anthropology Collections
March 10, 2020 - "CONSTELLATIONS! Investigation, Imagination, & Inspiration"
Robert Bonadurer, Planetarium & Dome Theater Director
February 11, 2020 - "Don't Judge a Brook by Its Cover -- Use Bugs!"
Jessica Orlofske, UW-Parkside and MPM Adjunct Curator
November 19, 2019 -   "Our Grandmother's Dress"
Siobhan Marks, Communications & Marketing Director, Indian Community School 
October 8, 2019 - "How Spiders Become Parents"
John Dobyns, Director of Outreach and Operations, UW Oshkosh CAPP Office
May 14, 2019 - "'Lumos!' Taxonomy and Biology of Wisconsin Fireflies"
Dr. Daniel K. Young, Professor of Entomology and Director of Wisconsin Insect Research Collection (WIRC)
April 9, 2019 - "A Poisonous Mushroom in a New Country and the Genes It Carried with It"
Anne Pringle, Vilas Distinguished Achievement Professor, Departments of Botany and Bacteriology, University of Wisconsin-Madison
March 12, 2019 - "Handicrafts for Hard Times: The WPA Milwaukee Handicraft Project"
Jackie Schweitzer, History Collection Manager
February 12, 2019 - "The Bees of the Southern Lake Michigan Region: An Ecological and Faunistic Monograph"
 Laura Rericha-Anchor, Wildlife Biologist II at Forest Preserve District of Cook County
November 6, 2018 - "Tribute to Survival"
James Kelly,  Exhibit Director Emeritus
October 9, 2018 - "A History of Native American Policy and Activism: From the American Indian Movement to Today"
Heather Bruegl, member of the Oneida Nation of Wisconsin
And more!