We're exploring the space where science and culture intersect, and we're doing it over drinks.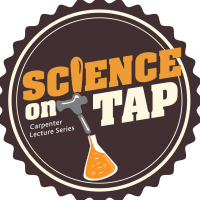 Grab a brew and pull up a chair. This evening lecture series features some of the best minds in science in a fun, social environment. From the sensation of being hugged by an octopus to quantum mechanics, Science on Tap looks to answer questions you never knew you had!
---
Upcoming Events
Technology for Exploration
Thursday, February 21, 2019
Corey Jaskolski - Co-founder of Virtual Wonders, inventor, engineer, National Geographic Fellow, magazine photographer, AR and VR developer, and explorer
Corey builds new technologies for exploring the world's most amazing natural and cultural places. His "day job" includes things like scuba-diving in the frigid waters of Antarctica, descending 12,500 feet in a three-man sub to explore the Titanic, 3D-scanning the skulls of Maya human sacrifice victims, helicoptering into remote sites in the Congo during an Ebola outbreak, digitizing the Tomb of Christ, and shark diving. The technologies needed for each of these jobs often doesn't exist, so Corey uses engineering, creative thinking, and a whole lot of luck to build specialized technical tools top use in these places!  In this presentation,  he will share some of his adventures and behind-the-scenes stories from a life on the edge. 
---
Past Events
November 15, 2018 - Dr. Merlin Tuttle -  "The Incredible World of Bats — Why We Need Them"
March 29, 2018-  Dr. Takeshi Inomata - "Clues to the Origins of Maya Civilization Revealed"
November 2, 2017 - Dr. Justin Vandenbroucke - "Neutrino Astronomy at the South Pole"
September 28, 2017 - Mary Roach -  "Grunt: The Curious Science of Humans at War"
April 27, 2017 - Jennifer Casey - "The Nature of Slow Food"
March 16, 2017 - Michael E. Mann, PhD - "The Madhouse Effect"
And more!
---
Official Science on Tap Media Partner: