The mission of the Milwaukee Public Museum is to inspire curiosity, excite minds, and increase desire to preserve and protect our world's natural and cultural diversity through exhibitions, educational programs, collections, and research.
---
History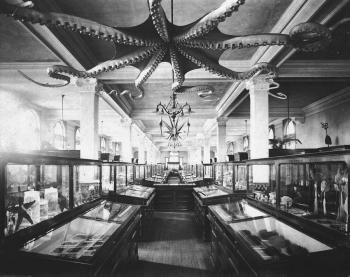 MPM was one of several major American museums established in the late 19th century. Although it was officially chartered in 1882, its existence can be traced back to 1851, to the founding of the German-English Academy in Milwaukee. The Academy's principal, Peter Engelmann, encouraged student field trips, many of which collected various specimens—organic, geological, and archaeological in nature—which were kept at the Academy. Later, alumni and others donated various specimens of historical and ethnological nature to the collection. By 1857, interest in the collection had grown to such an extent that Engelmann organized a natural history society to manage and expand the collection. Eventually, the collection -- which had come to be informally called "The Museum" -- grew to exceed the Academy's ability to accommodate it. August Stirn, a city alderman and member of the national history society, obtained legislation for the City of Milwaukee to accept the collection and take the measures necessary to establish "a free public museum." The Milwaukee Public Museum opened to the public on May 24, 1884.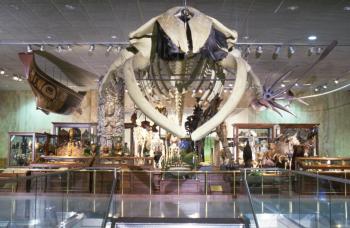 Since then, MPM has grown considerably, with current collections containing more than 4 million specimens. Permanent exhibits are contained in three and a half floors of exhibit area, with additional space for traveling and temporary exhibits. Tour the Museum's 150,000 square feet of exhibit space to visit continents and habitats. Take a small step back in time to the turn-of-the-century Streets of Old Milwaukee, European Village, and to ancient Mediterranean civilizations. Or, take a giant leap back more than 65 million years to The Third Planet and see one of the largest dinosaur skulls ever found. Stroll amid free-flying butterflies from around the world in The Puelicher Butterfly Wing.
Recent Updates
The Streets of Old Milwaukee was renovated and expanded in 2015, reopening on December 11, 2015.
Crossroads of Civilizations opened in 2015.
The Third Planet exhibit's "Hell Creek" underwent a refresh in early 2017.
Many collections, such as our crawfish and bees, are currently in process of being digitally archived.
---
Accessibility
MPM strives to make its exhibits, programs, and facilities accessible to all visitors. Some experiences available: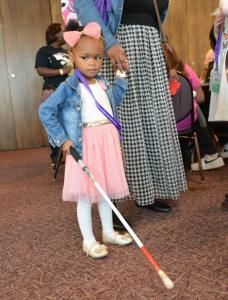 SPARK! programming 
Explorer Kits - Canvas bags that contain themed 3D objects and Braille exhibit guides available to check out 
Captioned films in the National Geographic Dome Theater 
Captioned exhibit digital media 
Courtesy wheelchairs in several sizes 
Accessible parking, entrances, restrooms, seating, and elevators 
Benches on all exhibit floors 
---
Sustainability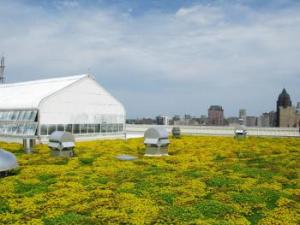 In October 2011, a green roof was installed on the tallest section of the Museum building, six stories up. MPM's green roof is 4,100 sq. ft. and houses more than 1,000 biotrays planted with sedum. It is estimated that this green roof will capture 90,000 gallons of storm water each year, based on an average rainfall of 34 inches each year.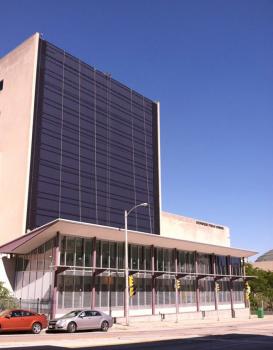 MPM also features 234 solar panels on its south-facing tower wall, each measuring about 4 feet x 6.5 feet. The panels are linked to a kiosk located on the ground floor that provides near-real-time data on the energy generated by the panels and provides information on outside environmental conditions. Learn more about our solar panels and green roof here.
MPM's next green infrastructure project is currently underway. The MPM Stormwater Collection Courtyard is a grant-funded initiative that will alter our 9,000 square-foot Wells Street entrance courtyard to include native landscaping, pollinator gardens, and a porous pavement system that includes underground collection cisterns to allow for the capture and reuse of rainwater during heavy storms. The courtyard project will break ground in August and open by October 2017.
---
MPM is operated by Milwaukee Public Museum, Inc., a private, non-profit company, and its facilities and collections are held in trust and supported by Milwaukee County for the benefit of the public.