Get a taste of some of the great research happening in Milwaukee during our Lunch & Lecture presentations.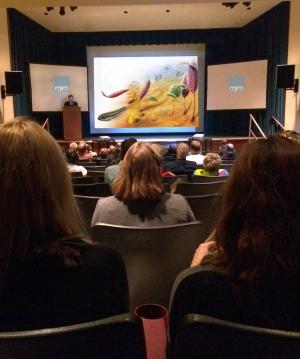 Take an optional guided pre-lecture docent tour, explore the topic du jour with an MPM curator or special guest, and if you're hungry for more, stay for a great lunch.*
Lunch & Lecture DAY Schedule
Optional Docent Tour – 10:30 a.m., meet near the circular desk across from the Cafe
Lecture in Gromme Lecture Hall – 11:30 a.m.
Optional Buffet Lunch in Garden Gallery – 12:30 p.m.
Lunch & Lecture Tickets
Cost: $27 per person; $22 for members
Lecture Only: $5; FREE for members and students
Docent Tour: $4 per person; $2 for members. Tours are capped at 25 people.

Registration required; check back for details in August 2020.
*Tour offerings and remaining menus will be decided after Museum reopens.
Please check back for details.
---
2020-2021 Lunch & Lecture series 
October 20, 2020 - Herstory at MPM
Dawn Scher Thomae, MPM Curator of Anthropology Collections
The Milwaukee Public Museum has had a long and illustrious history, but much of it has focused on the local men who were instrumental in its creation. This presentation will highlight some of the many influential and adventurous women who helped to build our extensive world-renowned collections.
Menu
Sandwich - Grilled Chicken Skewers (Satay)
Soup - Seafood Couscous
Salad - Apple Slaw
Dessert - Assorted Dessert Bars
November 10, 2020 – American Indians in Milwaukee: A Compact History
Antonio Doxtator, Historian, Author, and member of the Oneida Nation of Wisconsin
American Indians have always inhabited the area known as the "Good Land," or Milwaukee, Wisconsin. When Europeans first visited the shores of Lake Michigan, bands of Potawatomi and others lived on these lands. The "Founding Mother" of Milwaukee was a Menominee woman, Josette Vieau Juneau. This talk explores significant moments in Milwaukee's American Indian history from the city's origins and growth, and through nationally recognized innovations in education, gaming, and cultural representation.
Menu
Sandwich - Chef Dean's Indian Tacos
Soup - Chicken with Wild Rice
Salad - Mixed Greens with Craisins and Feta
Dessert - Strawberry Cheesecake
February 9, 2021 - The Archaeology of Dogs in the Western Great Lakes
Richard (Rick) W. Edwards IV, PhD, RPA, Principal investigator for Commonwealth Heritage Group and an Honorary Fellow at UWM
Dogs have been humans' companions for at least 15,000 years. Throughout the millennia, the nature of the relationship between humans and dogs was nuanced and variable; it changed depending on when, where, and in which society the dogs lived. This presentation explores the nature of the human-dog relationship in the Western Great Lakes, with a focus on the Late Prehistoric (circa AD 900-1600).
Menu
Sandwich - Slow Roasted BBQ Pulled Pork
Soup - Springy Chicken
Salad - Ranchero Pasta
Dessert - Chocolate Brownies
March 9, 2021 - Ruffled Feathers: The History and Art of MPM's Dromaeosaurid Models
Patty Burke, Curator of Geological Collections/Senior Collections Manager
A walk through the Hell Creek diorama in MPM's The Third Planet exhibit takes the visitor 65 million years back in time, but it is not frozen in time. Museums help guests visualize ancient life through artistic models that are informed by science. Over the last thirty years MPM has presented three interpretations of dromaeosaurid dinosaurs, each model improved by new knowledge. Patty will take you on the journey from fossil discovery to museum models and revise; it is the story of science told through the lens of dinosaur art.
Menu
TBD
April 13, 2021 - Monarch Butterfly Biology and Conservation
Karen S. Oberhauser, Director, UW-Madison Arboretum; Professor, Dept. of Entomology
Monarch butterfly populations have been declining over the last 20 years. Because insect numbers are notoriously difficult to assess and often show large annual fluctuations, simply documenting this decline has been a challenge. It is now important to move beyond simple documentation and toward responding to the challenge posed by monarch conservation, and insect conservation in general. Karen will describe the amazing biology of migratory monarch populations, how citizens and scientists are documenting monarch numbers across their migratory cycle, and what all of us can do to help preserve this charismatic insect for generations to come.
Menu
TBD
May 18, 2021 - DNA Sequencing, Morphometric Analysis, and Supercomputers: How Museums are more like Star Trek than Downton Abbey
Dr. Christopher Tyrrell, MPM Assistant Research Curator of Botany, Director of Library & Informatics, and Interim Head of Anthropology, History, Geology, and Registration
You may have heard about DNA sequencing and supercomputers in the news, or you may be fortunate enough to use them where you work. But did you know that scientists at MPM and natural history museums around the world apply these tools to specimens that were collected tens to hundreds of years ago? The Milwaukee Public Museum's own Dr. Christopher Tyrrell will explain the technology behind DNA sequencing and specimen analyses and show how — when applied to historic museums specimens — they can yield new discoveries about our natural world.
Menu
TBD
---
Past Lectures
March 10, 2020 - "CONSTELLATIONS! Investigation, Imagination, & Inspiration"
Robert Bonadurer, Planetarium & Dome Theater Director
February 11, 2020 - "Don't Judge a Brook by Its Cover -- Use Bugs!"
Jessica Orlofske, UW-Parkside and MPM Adjunct Curator
November 19, 2019 -   "Our Grandmother's Dress"
Siobhan Marks, Communications & Marketing Director, Indian Community School 
October 8, 2019 - "How Spiders Become Parents"
John Dobyns, Director of Outreach and Operations, UW Oshkosh CAPP Office
May 14, 2019 - "'Lumos!' Taxonomy and Biology of Wisconsin Fireflies"
Dr. Daniel K. Young, Professor of Entomology and Director of Wisconsin Insect Research Collection (WIRC)
April 9, 2019 - "A Poisonous Mushroom in a New Country and the Genes It Carried with It"
Anne Pringle, Vilas Distinguished Achievement Professor, Departments of Botany and Bacteriology, University of Wisconsin-Madison
March 12, 2019 - "Handicrafts for Hard Times: The WPA Milwaukee Handicraft Project"
Jackie Schweitzer, History Collection Manager
February 12, 2019 - "The Bees of the Southern Lake Michigan Region: An Ecological and Faunistic Monograph"
 Laura Rericha-Anchor, Wildlife Biologist II at Forest Preserve District of Cook County
November 6, 2018 - "Tribute to Survival"
James Kelly,  Exhibit Director Emeritus
October 9, 2018 - "A History of Native American Policy and Activism: From the American Indian Movement to Today"
Heather Bruegl, member of the Oneida Nation of Wisconsin
And more!