Get a taste of some of the great research happening in Milwaukee during our Lunch & Lecture presentations.
Take an optional guided pre-lecture docent tour, explore the topic du jour with an MPM curator or special guest, and if you're hungry for more, stay for a great lunch.
---
Lunch & Lecture Schedule
Optional Docent Tour – 10:30 a.m., meet near the circular desk across from the Cafe
Lecture in Gromme Lecture Hall – 11:30 a.m.
Optional buffet lunch in Garden Gallery – 12:30 p.m.
Lunch & Lecture Tickets
Cost: $25 per person; $19 for members
Lecture Only: $5; FREE for members and students
Docent Tour: $4 per person; $2 for members. Tours are capped at 25 people.
Registration required - call 414-278-2728 to register
---
2017-2018 Lunch & Lecture Schedule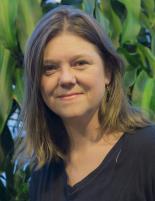 April 10, 2018 - Next-Generation Natural History: From Collecting to Chemical Ecology in the Vampire Moths and Their Fruit-Piercing Relatives
Jen Zaspel,  Research Curator of Zoology
Calpinae, commonly known as the piercing moths, are a cosmopolitan lineage comprised of approximately 200 species worldwide.  This enigmatic subfamily contains species that are both obligatory fruit piercers of agricultural importance and facultative mammalian blood feeders as adults. A global field program focused on collecting these and other moths for systematics research has been established over the past decade.  Key observations from collections-based field work involving this system have provided a platform for interdisciplinary research in functional morphology, chemical ecology, and behavior. These and other projects have resulted in numerous successful long-term collaborations, novel methodologies, extensive student training opportunities, and new discoveries.
 
May 8, 2018 - BioBlitz: Helping to Map the Biological Diversity of Urban Areas -- One Park at a Time
Ellen J. Censky, Ph.D, Senior Vice President/Academic Dean
The BioBlitz is designed to increase the public's awareness of the variety of life in their immediate neighborhood and the services these various species provide to improve the quality of their lives. Part contest, part festival, part educational event, part scientific endeavor, MPM's BioBlitz brings together scientists from several different organizations in a race against time to see how many species they can count at a park in a 24-hour biological survey. Learn how the BioBlitz got its start, what we have learned from them, and how MPM is helping to map and highlight biodiversity in urban areas.
---
Past Lunch & Lectures
March 13, 2018 -  Mesoamerica and the Maya
Carter Lupton, Curator Emeritus; formerly Head of Anthropology and History and Curator of Ancient History at MPM
November 14, 2017 - Forget the Gentler Sex: Infamous Women Warriors in History
Dawn Scher Thomae, Curator of Anthropology Collections

October 10, 2017 - Aerial Warfare Between Bats and Moths
Dr. Nicolas J. Dowdy, Postdoctoral Research Fellow
May 9, 2017 - Establishing Rice Cultivation in Wisconsin: A Long Term Vision
Michael Schlappi, Ph.D, Professor of Biological Sciences, Marquette University
April 11, 2017 - The Botany of Beverages
Christopher Tyrrell, Ph.D, Botany Collection Manager, Milwaukee Public Museum
March 14, 2017 - Banquet Milwaukee: A tummy rubbing view of Milwaukee celebratory food and drink 
Al Muchka, Curator of History Collections, Milwaukee Public Museum
February 7, 2017 - Digitization: Mobilizing Past Collections for Future Science
Alyssa Caywood, Collection Digitization Project Manager, and Julia Colby, Vertebrate & Invertebrate Collections Manager, Milwaukee Public Museum
November 8, 2016 - Orphan Train
Robin Mello, Oversees UWM Theatre Department BA Program, International Storyteller
October 11, 2016 - Outlaws, Rebels, & Vixens: Motion Picture Censorship in Milwaukee, 1914-1971 
Matthew Prigge, Milwaukee Historian & Author