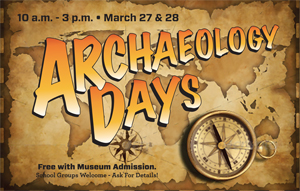 When: 10 a.m. to 3 p.m. Friday, March 27 and Saturday, March 28
Cost: Free with Museum Pass admission, free for members
Reservations: Individual and family visitors do not need to make reservations in advance. School groups must reserve in advance to receive field trip rates by calling (414) 278-2714.
Engage with archaeologists and historians from Wisconsin universities, museums, historical societies and other institutions. Subjects span geography and time, from ancient peoples in distant lands to modern archaeology in our own backyards. Ask questions, find answers, and get "hands-on" with these experts.
Our Archaeology Days event is open to the public, and would also make a great Field Trip, as it will supplement many areas of school curricula. This program is most appropriate for grades 4 through 12.
---
New this Year!

Dig Boxes
Learn how to excavate like an archaeologist in our dig boxes as you sift through the sand to find hidden artifacts! We will have three "full size" (1 meter by 1 meter) dig boxes and 4 mini (about 1 foot by 1 foot) themed dig boxes, plus screening stations and artifact cards to fill out.
Identification Table
Have a mystery archaeological object you want identified, like an arrowhead, shard of old pottery or ancient coin? Bring it to our Curator of Anthropology Collections and other Museum experts for identification! *No appraisals or valuations will be given. 
Table will close at 1 p.m. Saturday. 
Resource Table
Keep the archaeological adventure going after you leave the Museum. Take a look at our suggested reading list and websites, Wisconsin maps highlighting favorite archaeological sites, online games, and learn about activities to do at home.
Lectures & Film Screenings
Join MPM curators for discussions on fascinating topics from the "archaeology" of Indiana Jones to the Native American Graves Protection and Repatriation Act (NAGPRA).
Lecture

- Returning to the People: How the MPM works with indigenous groups to bring their history and ancestors home
When: 4 p.m. Saturday, March 28 

Lecture & Film

- Raiders of the Lost Archaeology: Indiana Jones and the Curse of the Reel Excavators
When: 6 p.m. Thursday, March 26; 9:30 a.m. or 6 p.m. Saturday, March 28
Learn more »
---
Archaeology Days Presenters
Rob Ahlrichs - Wisconsin Archaeological Society
Ever wonder how ancient people shaped the stones they used as tools, decor and household items? See the process of flint knapping in person to find out!
Lauren Anibas and Adriana Martin - Milwaukee Public Museum Anthropology department interns
What in the World?
Test your knowledge of archaeological artifacts from the Museum's anthropology collection.
Thane Arnold - A Knight to Remember
The Origins and Evolution of the European Knight
An exhibition of the evolution of the European Knight through the lens of his arms and armor, illustrating the transitions of their technology and style from the Norman/Viking era, through the Middle Ages, to the pinnacle of their development during the Renaissance. The presentation will include hands-on displays of reproduction and authentic weapons and armor, with regular, short oral presentations describing the evolution of the Knight from a simple mounted warrior to the pivotal military, social, and economic figure of Medieval and Renaissance Europe. 
Richard Hedderman - Milwaukee Public Museum Education Programs Coordinator
Archaeology Information and Resources
What is Archaeology? Resources and artifact/specimen activities.
Jamie Henry & Erin Krembs - Milwaukee Public Museum Exhibits staff
What the Tell?
This program hopes to illustrate the idea of stratification when excavating a site as well as demonstrating to students the process of use and re-use that was common throughout the ancient landscape of the Near East. Play-Doh will be formed into small bricks and students will be able to construct any type of structure they wish. These structures will be smashed creating layers of the "tell" for the students to observe. Once the initial layer is complete the process of tell formation will be explained and the destruction of the initial town will be carried out as will the construction of the second, third, fourth, and fifth occupational towns. 
Milwaukee Public Museum Educators & Interns
Dig Boxes
Learn how to dig like an archaeologist! Try your hand at screening for artifacts, and if you find one, fill out an artifact card!
Natasha Khan and Marin Kniskern - Milwaukee Public Museum Anthropology department interns
The Allure of Egyptian Faience
Learn about this distinctive blue material and see several decorative and ritualistic objects from MPM's Egyptian collection.
Chris Manesiotis, Mike Smul, John Maniatis, Sara Fonaas - Milchiean Hoplites
Greek Hoplite Soldiers
Display of living history military camp items, in-person reenactors in full panoplies and full presentation of ancient Greek citizen soldiers from the 4th century BCE. Outfitted as ancient Greek hoplite soldiers, presenters will explain and demonstrate period military items, campaign tactics, historical events and general Classical Greek culture and language.
Devyn McIlraith & Erin Pruhs - University of Wisconsin-Milwaukee Anthropology students
Digging into ceramics! What archaeologists do in the lab
Learn about the scientific analyses of ceramics, such as rim profiling and x-ray fluorescence. Guests can try their hand at rim profiling, and learn how the gun works and what it can accomplish. Objects will be on display for questions.
John & Sylvia Peine - Legio XIIII Gemina Martia Victrix
Ancient Roman Diadema: A symbol of Importance
The Fourteenth Legion will be in complete costume of late first century Rome. Display tables will provide recreated objects used in every day Roman life. Guests can make a Diadema (Taenia) -- head bands used as means of displaying social status in ancient Greece and Rome.
Kurt Sampson and Jaremy Cobble - Wisconsin Archaeological Society
Women's Contributions to Mound Site Preservation in Wisconsin: The Early History of the Wisconsin Archaeological Society
The Wisconsin Federation of Women's Clubs were instrumental in mound site preservation in the State of Wisconsin during the first two decades of the 1900's. Many of the women in these clubs were prominent members of the Wisconsin Archeological Society and were ultimately responsible for helping to preserve over two dozen Indian Mound sites around the state. This exhibit will highlight these women's contributions.
In addition, visitors to this station can also touch mammoth teeth and bones from one of the most important mammoth finds in Wisconsin! Learn about the Persha Mammoth, a juvenile mammoth in the collection of the Dodge County Historical Society, and the importance of it in Wisconsin's history.
Dawn Scher Thomae - Milwaukee Public Museum Curator of Anthropology Collections
Archaeology Identification Table
MPM Curator of Anthropology Collections Dawn Scher Thomae and local archaeology students will be on hand to identify archaeological items brought in by the public. See and handle common types of Wisconsin archaeological material often brought in by the public. Try your hand at identifying a projectile point. Please note that appraisal or value of the items cannot be provided, and that guests with over 10 items may be asked to make a separate appointment.
10 a.m. - 3 p.m. Friday and 10 a.m. - 1 p.m. Saturday  

Dawn Scher Thomae - Milwaukee Public Museum Curator of Anthropology Collections 
Lecture: Returning to the People: How the MPM works with indigenous groups to bring their history and ancestors home
The Native American Graves Protection and Repatriation Act (NAGPRA), passed in 1990, has forever changed the way museums collect, interpret and care for Native American items. One of the most controversial aspects of this Federal law relates to the process used by museums and Federal agencies to return certain Native American cultural items and human remains to tribes. This presentation will provide an overview of the law, how the Museum works with the U.S. government and native groups, and the ways that NAGPRA has impacted the MPM's collections, exhibits and programs. Also included in the talk is a brief discussion of one of the Museum's latest repatriation endeavors, the return of a Toi Moko, a tattooed Maori head from New Zealand. (Talk best enjoyed by those 12 and above.)
4 p.m. Saturday 
Jocelyn Slocum and Amanda Graff - Milwaukee Public Museum Anthropology department interns
Germania and Rome: One land, Two Empires
See rare items from the MPM's collection of archaeological material from the German provinces spanning over 1,000 years from the Imperial Roman Empire to the height of the Holy Roman Empire.
Jessica Skinner and Sarah Smith  - University of Wisconsin-Milwaukee students
Identity, Life, and the Fur Trade in 19th Century Wisconsin
We will be using the material (including bracelets, pipes, beaded bags, axes, etc.) from the Rantoul and Vilas County burials (in MPM collections) to talk about/show how the native people and early Wisconsin settlers interacted during the fur trade.
Katherine Sterner-Miller and Robert Jeske - University of Wisconsin-Milwaukee Archaeological Research Laboratory
Using Prehistoric Technology
We can gather a great deal of information about prehistoric peoples by understanding how they used their stone tools. We are able to learn some things about how tools were used by looking at them underneath the microscope and testing them for organic residues. In order to interpret this information, we need to conduct experiments using replica tools to demonstrate how prehistoric peoples used their technology. Participants will be able to use replica tools to scrape hide, drill wood, grind corn and carve shell. They may also look at already used experimental tools underneath the microscope to see what different traces of use look like.
*Presentations will take place throughout the event unless otherwise noted.  
Summary Image