The Milwaukee Public Museum "comes to life"!
Visitors get the chance to talk to costumed interpreters and participate in an array of hands-on activities.
In Streets Alive! this March, learn about the lives of Milwaukee's early residents with costumed interpreters in the Streets of Old Milwaukee.

Dates and Times: Friday, March 2, 10 a.m. - 2 p.m.
Saturday, March 3, 11 a.m. - 3 p.m.
---
Curator Tables
Friday, March 2
Juneau Triptych:  A  Re-introduction to Milwaukee's Founding Family
Two hundred years ago, Solomon and Josette (Vieau) Juneau took up the fur trade business around Milwaukee. In the waning days of the trade in the upper Midwest, their work   in a small trade-based settlement set the stage for the establishment of  a major Midwestern City. See objects from the MPM History Collections that tell the story and  demonstrate the life and recollection of the Milwaukee's First Citizens!
 
Saturday, March 3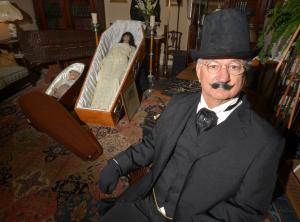 Many of today's funeral traditions have their roots during the Victorian Era. See real funeral artifacts from this time period, all explained by "The Victorian Undertaker"! Steve Person retired after 47 years as a funeral director. During this time, he developed an interest in the history of the funeral industry, especially during the Victorian Era. It was during this time that the "undertaker" came into being -- the forerunner of today's funeral director. Many of today's traditions in the area of funeral service came to being during the 1800s, but as superstition. 
 
Presenters
Al Muchka, History Curator; Juneau and the Fur Trade
Valerie Davis, Honorary Curator of Textiles;  Mrs. Juneau's World
Jackie Schweitzer, Honorary Curator of American History;  Celebrating Juneau
---
Alive! events are open to the public, and also make a great school Field Trip. Call 414-278-2714 for field trip information or to make a school reservation.