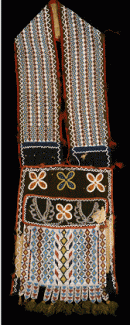 Region :
Great Lakes area
Material :
Glass beads, cloth, wool, yarn
This bag is beaded in both geometric and floral designs. The strap has a diamond geometric design; the pouch has a larger diamond design and flowers. It is trimmed in red wool, with brown wool tassels.
Source :
Donated by Mrs. Irving Ott of Milwaukee, WI. Unknown collector.