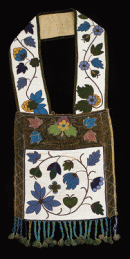 Region :
Lac Court Oreilles Reservation, WI
Material :
Glass beads, cotton textile, velvet, cotton thread, wool yarn
This bag has a fully beaded strap and pocket in a floral design, the latter with muted colors. The pocket is lined with cotton and edged on three sides with green velvet as is the strap. Beaded and braided strings serve as tassels.
Source :
Donated by Mrs. L. M. Scott of Milwaukee, WI. Unknown collector.