Venture onto a poisonous path of your own choosing at this adults-only event!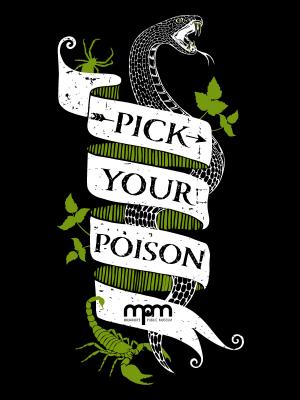 Experience all three exhibit floors, including The Power of Poison (limited engagement through July 7). Each path will take you on a journey where you'll sample food and drink with poisonous connections and meet MPM experts who will tell you toxic tales about items in our collections.


Date and Time
Friday, May 17, 2019
6:30 - 9:30 p.m.


Cost and Tickets
$30  members, $35 non-members
Admission includes entrance to MPM's newest traveling exhibit The Power of Poison, food stations from ZHG, and samples from local vendors. Cash bar available.
Buy Now
Members must log in to receive benefits. This is event 21+. Attendees must present a valid ID. 


Event Details
Have some non-fatal fun in The Power of Poison and MPM's permanent exhibits!
Explore poisonous dangers in turn-of-the-century Milwaukee life at work and home in the Streets of Old Milwaukee.
Go on a venomous visit with the insects who call MPM home! You can even interact with their non-poisonous cousins if you dare.
Discover what poisons have to be extracted before your favorite foods get to your plate at "Plants, Products, and Poison."
Seek out food stations catered by Zilli Hospitality Group.
Enjoy samples of not-so toxic treats and deadly drinks from local vendors.
Celebrate poison in nature, myth, and legend; detect accidental poisonings (and maybe some not-so-accidental ones); and see how medical science is using poisons to cure what ails us.
---
The Power of Poison is organized by the American Museum of Natural History, New York (amnh.org).