Archaeology Days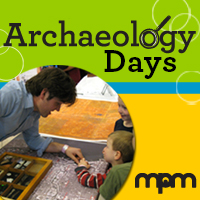 Students can engage with archaeologists and historians from Wisconsin universities, museums, historical societies and other institutions. Subjects span geography and time, from ancient peoples far away to modern archaeology in your own backyard. Ask questions, find answers, and get "hands-on" with these experts.
Our Archaeology Days event is open to the public, and would also make a great Field Trip, as it will supplement many areas of school curricula. This program is most appropriate for grades 4 through 12.
When: 10 a.m. to 3 p.m. Friday, March 27 and Saturday, March 28
Cost: Free with Museum admission
Reservations: Reservations for the general public do not need to be made in advance. School groups must reserve in advance to receive field trip rates by calling (414) 278-2714.
Archaeology Days Presenters
Look for a full list of presenters in February 2015