Lunch & Lecture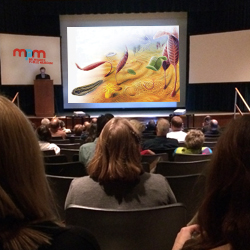 Get a taste of some of the great research happening in Milwaukee during our monthly Lunch & Lecture presentations. Take an optional guided pre-lecture docent tour, explore the topic du jour with an MPM curator or special guest, and if you're hungry for more, stay for a great lunch.
Lunch & Lecture Schedule
Optional Docent Tour – 10:30 a.m., meet near the Will-Call desk
Lecture in Gromme Lecture Hall –11:30 a.m.
Buffet lunch in Garden Gallery – 12:30 p.m.
Read the Lunch & Lecture buffet menu »
Lunch & Lecture Tickets
Cost: $18; $15 for members
Lecture Only: $5; FREE for members and students
Registration required - call (414) 278-2728 to register
Lunch & Lecture Topics
Our Lunch & Lecture series is over for the season. Please check back for 2014-2015 Lunch & Lecture program information in September 2014.