Lunch & Lecture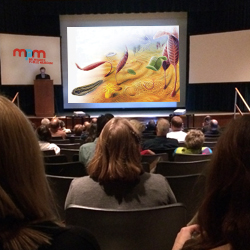 Thanks for joining us for our 2014-15 Lunch & Lecture series. Please check back in September 2015, when we will announce our 2015-16 series.
Get a taste of some of the great research happening in Milwaukee during our monthly Lunch & Lecture presentations. Take an optional guided pre-lecture docent tour, explore the topic du jour with an MPM curator or special guest, and if you're hungry for more, stay for a great lunch.
Lunch & Lecture Schedule
Optional Docent Tour – 10:30 a.m., meet near the Will-Call desk
Lecture in Gromme Lecture Hall –11:30 a.m.
Optional buffet lunch in Garden Gallery – 12:30 p.m.
Read the Lunch & Lecture buffet menu »
Lunch & Lecture Tickets
Cost: $18; $15 for members
Lecture Only: $5; FREE for members and students
Registration required - call (414) 278-2728 to register
2014-15 Lunch & Lecture Schedule
October 14, 2014 - The Deep Sea: Earth's Last Frontier
Janet Voight, Ph.D., Associate Curator, The Field Museum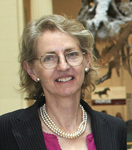 The miles of water that lie between us and the sea floor have kept the animals living there shrouded in mystery; less is known about the sea floor and its plants and animals than about the back side of the moon. Using both time-tested and modern technology, Dr. Janet Voight has worked to see through the overlying water, to collect specimens to increase our meager knowledge of what lies beneath.
Docent Tour - Sense of Wonder and Living Oceans exhibit
November 11, 2014 - Art History and Geology's Place in the Scientific Revolution
Gary Rosenberg, Ph.D., Adjunct Curator, Geology, Milwaukee Public Museum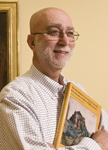 Most people would not believe that art history played much of a part in the scientific revolution. It was Renaissance artists, however, who made Europe's Scientific Revolution possible when they rediscovered Greek and Arabic geometry and used it to describe nature for the first time. Discover how these artists created the concept of landscape as a structural object greater than the sum of its parts, much like the human body, and from this how a Baroque anatomist subsequently founded the science of geology.
Docent Tour - Third Planet exhibit, Geological Landscapes
December 9, 2014 - Studying Wisconsin: The Life of Increase Lapham
Martha Bergland, Author and Paul Hayes, Author


Described as "Father of the U.S. Weather Service" and "Wisconsin's first great scientist," Increase Lapham spent his life studying our state. Self-taught, Lapham was the author of the first book published in Wisconsin (his 1844 guide to the territory), and mastered botany, geology, archaeology, limnology, mineralogy, engineering, meteorology, and cartography.
Join us as Martha Bergland and Paul Hayes read from Studying Wisconsin, their tribute to Wisconsin's pioneer scientist, and discuss his immense contributions to

Wisconsin and the nation. Following the lecture, Bergland and Hayes will be signing copies of "Studying Wisconsin."
Docent Tour - Sense of Wonder exhibit, Specimens from Botany and Geology collected by Lapham
January 13, 2015 - From Heathen to Hero: American Indian Participation in WWII
Dawn Scher Thomae, Curator of Collections, Anthropology, Milwaukee Public Museum


Beyond the Navajo code talkers little has been written about American Indian participation in WWII. Few authors have explored the motivation for their involvement, especially given their tenuous relationship with the U.S. government. Find out why American Indians joined this war in such great numbers and whether the stereotype of the war-like American Indian had any validity.
Docent Tour - Tribute to Survival exhibit, American Indian War and Peace Traditions
February 10, 2015 - The Milwaukee Public Museum and Sustainability: Teaching by Example
Ellen Censky, Ph.D., Senior Vice President and Academic Dean, Milwaukee Public Museum


A confluence of factors has brought environmental sustainability to the forefront of people's minds, from the consequences of unchecked energy and water consumption to the effects of climate change. Learn about the environmental impacts that are affecting our planet, and how the 133-year-old Milwaukee Public Museum is making an effort to become more sustainable.
Docent Tour - Extinction and Endangered Species, Rainforest and World Sustainability Issues
March 10, 2015 - Paving the Way to Crossroads of Civilization
Carter Lupton, Head of Anthropology and History, Curator of Ancient History, Milwaukee Public Museum


As the Museum prepares to open its new exhibition, Crossroads of Civilization: Ancient Worlds of the Near East and Mediterranean, Carter Lupton will reflect on The Rise of Civilization (1966-86) and Temples, Tells and Tombs (1991-2007), previous exhibits at the Museum that highlighted this topic.
Docent Tour - Crossroads of Civilizations exhibit
April 14, 2015 - Wisconsin State Natural Areas: Saving our Native Landscapes
Thomas Meyer, Conservation Biologist, Wisconsin DNR


Wisconsin's first European settlers of the 1800s encountered a land of vast prairies, savannas, virgin forests, and rich wetlands. State Natural Areas preserve the best remaining examples of Wisconsin's native landscapes and the rare plants and animals they harbor. Learn more about these special places and how the DNR and its partners work together to save them.
Docent Tour - Jewel Boxes and Wildlife and Cultural Aspects
May 12, 2015 - Beyond the Honey Bee: Diversity and Ecology of Wisconsin's Native Bees
Amy Wolf, Ph.D., Associate Professor, Department of Natural and Applied Sciences, UW-Green Bay


Although non-native honeybees get more attention, Wisconsin's 500 native bees pollinate a much broader range of plants and provide a rich diversity of ecological lifestyles, many of which are still mysteries. Learn about the variety of Wisconsin native bee species, which include predators, parasites, and pollinators living alone, with family members, and in larger social groups. Like the honeybee, some of these species are in peril due to changes in our environment. Dr. Wolf will describe the challenges of bee conservation and how you can be a part of efforts to preserve our native bee diversity.
Docent Tour - Butterfly Garden and the Rainforest exhibit - Pollination