Milwaukee Archaeology Fair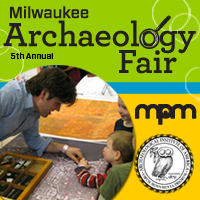 Take a trip back in time to explore the past through hands-on activities and presentations during this great event produced jointly by MPM and the Archaeological Institute of America - Milwaukee Chapter. Talk with archaeologists and historians from Wisconsin universities, museums, and other institutions.
The 5th Annual Milwaukee Archaeology Fair is open to the public, and would also make a great Field Trip, as it will supplement many areas of school curricula. The 5th Annual Archaeology Fair is most appropriate for grades 4 through 12.
When: 10 a.m. to 3 p.m. Friday, March 7 and Saturday, March 8
Cost: Free with Museum admission
Reservations: Reservations for the general public do not need to be made in advance. School groups must reserve in advance to receive field trip rates by calling (414) 278-2714.
5th Annual Milwaukee Archaeology Fair Presenters 2014
*The following information is subject to change.
Archaeological Institute of America-Milwaukee Society - Ask an Archaeologist
AIA-Milwaukee Society, Alice Kehoe
A Lost World: The Byzantine Empire and the Forgotten Romans
Marquette University, Department of Anthropology students Anna Alioto and Danielle Fleming
William Frankfurth in the Alps: The Mystery of Accession 213
UW-Milwaukee, Department of Anthropology professor Bettina Arnold and graduate student Barbara McClendon
Friday only
Is this a Mummy?
UW-Milwaukee, Museum Studies students Amanda Balistreri and Allyse Freeman
Reliving the Past: Samples of Wisconsin History
Wisconsin Lutheran College, Anthropology Department students LaKaysha Blacksher and Emilie Nimtz
Spartacus and the Geography of the Slave Revolt
Marquette University, Department of History professor Sarah Bond
Wisconsin Native American Tools and Artifacts
Wisconsin Archaeological Society, Jaremy Cobble and Rob Ahlrichs
Games Ancient People Played
UW-Milwaukee, Art History and Classics Department members Elisabetta Cova and Derek Counts
Art Detective: Solving Clues about Buried Treasure
Cricket Harbeck, LLC (artifact conservation), Cricket Harbeck
Friday only
Name that myth!
UW-Milwaukee Classics Club, students Amanda Harper, Benjamin Domer, Jordan Burich and Ben Gautsch
Connect the dots: Why Archaeologists use grids to excavate
UW-Milwaukee, Anthropology/Museum Studies students Jamie Patrick Henry and Zac Stencil,
A Warrior's Death: Rediscovering an Etruscan Figurine in the Milwaukee Public Museum
UW-Milwaukee, Anthropology/Museum Studies student Kaitlin Kincade
Make Your Own Medieval Picture Book
UW-Milwaukee, Art History Department professor Richard Leson and graduate student Elizabeth Siercks
Saturday only
Temples and Artifacts: Rituals and Religion in the Ancient World
UW-Milwaukee Religious Studies Student Organization, Dana Lovrek, Taylor Wyman, Alora Rodriguez and Chris Hamilton
Citizen Soldiers of Ancient Greece
Milchiean Hoplites Re-enactment Group, Chris Manesiotis, Mike Smul and John Maniatis
Desired Objects of the Sea: Shell and Pearls in Archaeology
UW-Milwaukee, Anthropology Department graduate students Rachel McTavish and Sarah Smith
Classical Coronas (neither a beer nor a cigar)
XIIIIth Roman Legion Re-enactment Group, John and Sylvia Peine, Dave Wiedenkeller, Richard Saubaugh and Scott Jenquin
Piecing Together the Past: The Cahokia Collection at MPM
UW-Milwaukee, Anthropology/Museum Studies student Erin Pruhs
Yes, you can take it with you: ancient burials and grave goods Celtic style
Tribes of the Blue Rose Re-enactment Group, John Risch, Chris Rohr, Mike Tretz and Bruce Verville
That Wildenesse did Deface: Crafts and Culture in the New World
The Banner of St. Michael Re-enactment Group, Daniel Rosen and Michael Alesia
Ancient Beads
Milwaukee Public Museum, staff member Dawn Scher Thomae
Friday only
What in the World
Milwaukee Public Museum, interns
Friday only
Digging at Omrit, Israel
Carthage College, Department of Classics and the Omrit Excavations professor Dan Schowalter and student Andrew Lawrence
Help Sort It Out
UW-Milwaukee, Anthropology Department graduate students Katherine Sterner-Miller and Stephen Wilson
A Knight to Remember: A Unique Presentation of Medieval Arms and Armor
Re-enactment Group Carlo Tuzzio, Thane Arnold and Julia Penn
Mazes and Labyrinths: What Are They and Where do They Come From?
Archaeological Institute of America-Milwaukee Society, Jane Waldbaum
Brush and Ink in Chinese Calligraphy
UW-Milwaukee, Art History Department professor Ying Wang
Friday only
Rescuing the Inca Ice Maiden
Milwaukee Public Museum, Pre-Columbian docents Judy Wimmer, Carolyn Megal and Frank Lotter