Milwaukee Archaeology Fair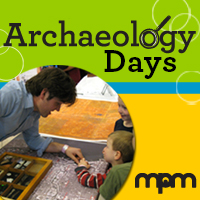 Students can engage with archaeologists and historians from Wisconsin universities, museums, historical societies and other institutions. Subjects span cultures and time: Native Americans, Toltec gods, Roman-era armament, writing systems, tools, and much more. Ask questions, find answers, and get "hands-on" with these experts.
The 6th Annual Milwaukee Archaeology Fair is open to the public, and would also make a great Field Trip, as it will supplement many areas of school curricula. Archaeology Days are most appropriate for grades 4 through 12.
When: 10 a.m. to 3 p.m. Friday, March 27 and Saturday, March 28
Cost: Free with Museum admission
Reservations: Reservations for the general public do not need to be made in advance. School groups must reserve in advance to receive field trip rates by calling (414) 278-2714.
6th Annual Milwaukee Archaeology Fair Presenters 2015
Look for a full list of presenters in February 2015