Museum Overnights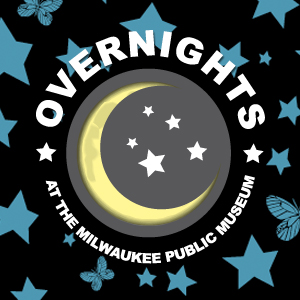 During MPM's exciting sleepovers, you'll experience the Museum under the cover of darkness. Get a deeper look into one of the Museum's great exhibits or the theme of the evening through hands-on activities with MPM educators. Catch a thrilling show in our six-story dome theater, then guide your group through exhibits on a flashlight exploration. Finally, you'll be ready to "bed-down" for a night of rest in select exhibit areas.
For scout groups and families with children ages 6-12. Overnights begin at 6 p.m. on Friday evening and last until 8 a.m. the following morning.
Upcoming Themed Overnights

$47 per person, $37 for members, $42 for groups (15+ booked together, in advance).

Overnight packages include:
Dome Theater show
Educator-led activities
Discovery hunts & self-guided flashlight exploration
Light breakfast
All-day Museum admission for Saturday
How to Register
1) Begin by downloading our Overnights FAQs and Packing List. After you become familiar with our policies, register by calling (414) 278-2728 or (888) 700-9069. Registrations for each date will be accepted up to two weeks prior to the program or until maximum enrollment is reached. Confirmation of registration, directions and event details will be mailed to you. We reserve the right to cancel any event that does not meet the minimum enrollment requirements.
2) Next, you will need to fill out the online Overnight Roster Form. This group/family roster form must be submitted online ONE MONTH prior to your event. All documentation is required for participation. Please go to www.mpm.edu/user to login and create a museum account or login to one you already created. After you have a user account, sign in and choose the tab "Overnights" and then click on the tab labeled "submit roster" and fill in the appropriate information. Please have your confirmation number, as you will need that to verify that you have registered and paid for your group (if you have multiple confirmation numbers, enter one of them).
We strongly encourage you to fill out our Overnight Roster Form online, but if you cannot do so, call 414-278-2714 to request paper forms or download our Code of Conduct & Roster Forms. Fill out these forms and return to us at least four weeks prior to your overnight date.
Overnight tickets are non-refundable, non-exchangeable. Overnight guests are responsible for maintaining the chaperone ratio of one adult for every five children and for ensuring the children in their group meet the age range policy of 6-12 year olds. We cannot make any exceptions to our age range policy. Overnight group/family leaders are responsible for returning their group participant forms four weeks prior to the overnight date.