Museum Overnights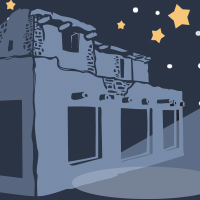 During MPM's exciting sleepovers, you'll experience the Museum under the cover of darkness. Get a deeper look into one of the Museum's great exhibits or the theme of the evening through hands-on activities with MPM educators. Catch a thrilling show in our six-story dome theater, then guide your group through exhibits on a flashlight exploration. Finally, you'll be ready to "bed-down" for a night of rest in select exhibit areas.
For scout groups and families with children ages 6-12. Overnights begin at 6 p.m. on Friday evening and last until 8 a.m. the following morning.
Upcoming Themed Overnights

$47 per person, $37 for members, $42 for groups (10+ booked together, in advance).
June 19, 2015: For Your Eyes Only!*
During this unique overnight adventure, our educators will show you objects from our collections not normally available for public viewing. You'll get the chance to examine fossils of your favorite dinosaurs, measure yourself against a Galapagos tortoise shell, and check out ancient Egyptian mummification artifacts. We've also created a special third floor flashlight tour with stops at objects and exhibits voted by our staff as their favorites.
July 24, 2015: Ancient Worlds
A state of the art, interactive experience complete with mummies, King Tut and even a Roman charioteer awaits you during the first overnight to highlight our newest permanent exhibit gallery –- Crossroads of Civilization. During this great overnight, you'll learn how to wrap a mummy, and watch a special full-dome planetarium show that will take you back in space and time to see how ancient cultures viewed the night skies. Top off the evening with a flashlight tour of our third floor that will take you from the top of the world in the Arctic to furthest reaches of South America.
*Kids attending our June 19 overnight will also receive a free book and activity packet thanks to Scholastic and the 2015 Scholastic Summer Reading Challenge, which invites kids to read all summer long and help set a new world record for summer reading. This summer's theme is "Power Up & Read." To learn more, visit www.scholastic.com/summer.
Look for 2015-2016 dates to be announced in September!
Sample Overnight Schedule*
6-7:30pm- Check-in table is open6-8 pm- Participate in educator-led activities
8pm- Self-guided flashlight exploration on 3rd floor
9pm- Dome theater show
9:45-10pm – Safety talk in dome theater
10:45pm- Lights out!
7:00 am - Rise and shine!
7:15am – Light breakfast
8:00am – Farewell or stay! Your wristbands admit you into the museum for Saturday admission.
*Program components and schedule are subject to change
Reservation Guidelines
The reservation process starts by completing the Overnight Request form. You will want to have all guest information prior to filling out this form.
Someone from the reservations department will contact you within 48 hours of filling out this form.
Sleepover reservations must be made at least two weeks in advance of sleepover
Full payment is due at the time of registration
Special payment arrangements may be made for groups of 10 or more
Payments are nonrefundable and nonexchangable
Download our Overnights FAQs and Packing List

Questions? Please call the reservations department at (414) 278-2728.
Overnight tickets are non-refundable, non-exchangeable. Overnight guests are responsible for maintaining the chaperone ratio of one adult for every five children and for ensuring the children in their group meet the age range policy of 6-12 year olds. We cannot make exceptions to our age range policy.