Join us as we celebrate the 25th anniversary of our permanent exhibit A Tribute to Survival !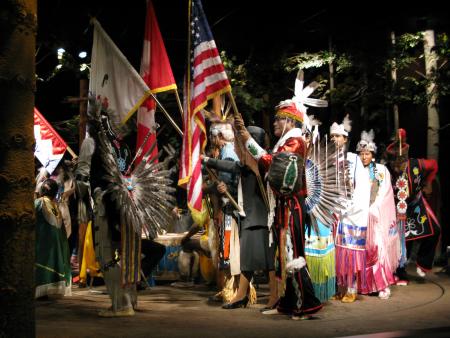 Various programs run September through November.


Visitor Engagements
Visit the floors September through November for public programming at various times. Explore the diversity and cultures of Wisconsin native tribes through community presenters, MPM Educators, and interns. 
 
Hidden MPM Tour: A Tribute to Survival
Saturdays, September 22 - November 10, 2018
In honor of the 25th anniversary of the Museum's groundbreaking A Tribute to Survival exhibition,  join us for a fascinating overview exploring how First Americans survived and thrived while shaping U.S. history and transforming the rest of the world. 
 
Lunch and Lecture
Tuesday, October 9, 2018
A History of Native American Policy and Activism:  From the American Indian Movement to Today
Join Heather Bruegl, a member of the Oneida Nation of Wisconsin, to learn about the beginnings of the American Indian Movement, how the activism of the 1960s lives on, and how we are dealing with issues in the Native community today.
Tuesday, November 6, 2018
Tribute to Survival
Opened in the fall of 1993, MPM's A Tribute to Survival exhibition celebrates the history and diversity of Wisconsin's tribal nations. This exhibition was the product of a multi-year collaboration between the Milwaukee Public Museum and tribal members from across the state.   Hear from James Kelly, Exhibit Director Emeritus, and learn about the history and development of the iconic A Tribute to Survival exhibit.


Curator Lectures
All lectures given by Dawn Scher Thomae, Curator of Anthropology Collections
Returning to the People: How MPM Works with Indigenous Groups to Bring Their History and Ancestors Home
Monday, October 8, 2018
3:30 p.m.
The Native American Graves Protection and Repatriation Act (NAGPRA), passed in 1990, has forever changed the way museums collect, interpret, and care for Native American items. One of the most controversial aspects relates to the process used by museums and federal agencies to return certain Native American cultural items and human remains to tribes. This presentation will provide an overview of the law, how MPM works with the U.S. government and native groups, and the ways that NAGPRA has impacted our collections, exhibits, and programs. 
From Heathen to Hero: American Indian Participation in WWII
Sunday, October 21, 2018
3:00 p.m.
Beyond the Navajo code talkers, little has been written about American Indian participation in WWII. Few authors have explored the motivation for their involvement, especially given their tenuous relationship with the U.S. government. Find out why American Indians joined this war in such great numbers and whether the stereotype of the war-like American Indian had any validity. 
Beyond Pocahontas and Sacagawea: American Indian Woman in History
Thursday, November 1, 2018
6:00 p.m.
This presentation gives long-due homage to American Indian women who made American history, not just American Indian history. The lives of three admirable women will be explored among the many thousands whose stories deserve to be told. Learn about the women who made an impact beyond their tribes and took different paths that brought American Indian women out of obscurity. 
 
Community Conversation
Thursday, October 25, 2018
6:00 p.m. 
Join  MPM and the Zeidler Center for Public Discussion for a Community Conversation about museums, interpretation, and Native American collections.  We'll begin with a panel of varying perspectives in the Gromme Lecture Hall and continue with a facilitated conversation in the A Tribute to Survival  exhibit. 


Theme Day
Saturday, November 3, 2018
11:00 a.m. - 3:00 p.m.
Learn about the history and diversity of Wisconsin's tribal nations!


Ancestral Women
Saturday, November 10, 2018
11:00 a.m. in Owen J. Gromme Lecture Hall
"Ancestral Women" weaves a tapestry of personal stories, tribal history, and the interconnectedness of all living things through stories, music, and movement. The stage will be set with larger than life prints of artist Mary Burns's tapestries honoring the First Nations of Wisconsin. Coordinated by Miigiiziikwe (Lac du Flambeau Ojibwe) and Carol Ann Amour, each tribal nation's story will be elaborated by members of that nation.  Free with general admission.
---
A Tribute to Survival programming brought to you by