Every volunteer at MPM makes a huge impact on our Museum.
During 2019, we'd like to highlight 12 people who amaze us with their dedication and passion. Each Volunteer of the Month will be mentioned on this webpage and in  a slide above the Admissions windows, receive an awesome MPM mug, and two parking passes.
To nominate a volunteer, please fill out our nomination form.
---
August
Dave 
Dave G., the August Volunteer of the Month, was born and raised in Milwaukee. After he graduated with a BA in Biological Aspects of Conservation from UWM, he worked in the Vertebrate Zoology department here from 1978-1982. His job included stuffing fish in jars, making thousands of fish labels, and logging everything with India ink in large log books. He even did some illustrations for a staff research paper because, "in those days there were no computers, no Internet, and no online graphics. Everything was done by hand." 
After 1982, Dave earned an MS in Operations Analysis from UWM and began his career as a statistician, econometrician, and business analyst, spending 30 years at Runzheimer. Despite moving on in his career, he has never truly left MPM. He has become a rock within our Special Events and Development departments. He lead the packet pick up for the Dinosaur Dash for 20 years, helped conceive and implement Food and Froth and Halloween Hauntings, and continues to support a MPM throughout the year. You can spot him at every Halloween Hauntings donning a new and amazing costume, at our Gala helping with registration, and at Food and Froth armed with a clipboard at the top of the grand staircase.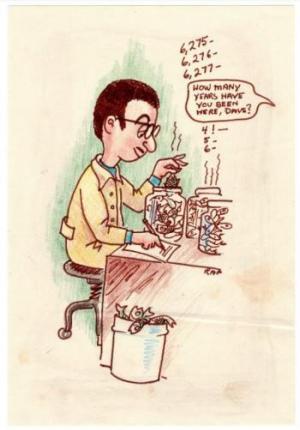 When working a MPM event, Dave often takes meticulous notes on everything from locations of chairs to marketing strategies, and sends them to relevant staff. Former Special Events Director Jill Engl would save these notes and review them as planning for the next event began. She said of his skill and organizing, "As soon as he heard he was assigned to an event, I breathed more easily!" MPM Major Gifts Coordinator, Diane Hastreiter, echoes this sentiment, saying, "Because of his expertise as a community volunteer, he often offers suggestions on how to make MPM events even better. We can always count on Dave!"
Amanda Kopp, Volunteer Manager, also praises Dave's dependability and commitment to MPM. She has known Dave for over six years through three different non-profit organizations. It's hardly surprising, since he currently spends his time at over two dozen different organizations! Much of his work revolves around his passion for sustainable food. In the summer, he plants and picks produce for local CSA Pinehold Gardens. He teaches children about urban agriculture and how to make apple pie at Urban Ecology Center. Dave is also supporting Greendale and Hales Corners Health Departments in their recent initiative to reduce the substance abuse.
Dave's commitment to all of Milwaukee, and especially the time and dedication he shows for the Milwaukee Public Museum, are truly humbling and appreciated.  Thank you for everything you do for MPM, Dave!
---

July
Bob
Dr. Robert L. Truitt, or Bob as he's known around MPM, was nominated for July's Volunteer of the Month by Amanda Kopp, the Volunteer and Internship Manager. 
Bob grew up with his twin brother on the Ohio River of Southern Illinois. One summer in high school, he went on an NSF-funded program, where he met the two loves of his life: science and his future wife, Dawn.  After getting a PhD in Microbiology, he went on to have a busy and exciting  40-year career in medical research in Milwaukee.  His specialty was research on the use of bone marrow transplantation (BMT) as a treatment for leukemia and lymphoma. During this time, he authored or co-authored over 100 research papers in scientific journals and was internationally recognized for the development of animal models of BMT.  He spent the last 30 years of his career at the Medical College of Wisconsin and was honored with MCW's highest faculty honor, the Distinguished Service Award, before retiring in 2010. During this time period, he was blessed with five daughters and six grandchildren.
Bob began this self-proclaimed "second career" in Fall of 2009, manning a cart in our Dead Sea Scrolls exhibit. During this time, he found he enjoyed discussing the cart and learned a lot about engaging visitors. In September 2010, Bob became a docent, focusing his research on The Third Planet. Although many Third Planet docents like to focus on the trilobites, dinosaurs, and mammoths, Bob looks a little smaller. He uses his PhD in Microbiology as a springboard for discussions on how our planet evolved from an inorganic rocky world to an organic one with diverse and complex life forms. As he says, "I love introducing people to the key physical, chemical, and biological changes that led to where we are today."
It wasn't just his love of learning that inspired Amanda to nominate him as Volunteer of the Month for July. "Bob was the very first MPM volunteer I met. In fact, as Docent Chair, he was part of the team that interviewed me for this position in 2016! During my first 18 months at MPM, Bob's thoughtful, patient feedback was so critical to my transition and success. I really don't know if the program would be where it is without his guidance."
Bob also spends some of his time behind-the-scenes in Geology, working with curator Patricia Coorough-Burke. She'll often reach out to Bob to help with public engagement events because "[he] is able to take complex material and make it accessible -- for example, his Inside Out presentation explaining the Earth's early atmosphere." More than that, she added, "I love to discuss recent science books with Bob."
Although he stepped down from Docent Chair in September of 2017, he hasn't slowed down a bit. Just in the last six months, Bob has been a constant fixture at the MPM. He worked behind the scenes in Geology, led butterfly school tours, and played the mechanic at Streets Alive! He has been an integral part of planning future Docent Trainings, acted as immediate past-chair in the Docent Steering Committee, and helped lead and write the Hidden MPM: Toxins tour. He assisted Amanda in spreading the news about a docent training opportunity in Washington, DC, did hours of research on the new Wisconsin Geology Cart, and so much more! 
"It feels like every week I'm asking him for something else," Amanda admits, "but he almost never says no. His enthusiasm and dedication are really astounding."
We are so grateful for everything you do for us at MPM! Thank you, Bob!
---

June
Sam
June's Volunteer of the Month has truly made volunteering at the Milwaukee Public Museum a "second career." Since his retirement from Area Supervisor of Primates at the Milwaukee County Zoo in 1995, he has given 24 years and 11,207 hours of time to the Milwaukee Public Museum. The two institutions tied in well together for Sam: "My experiences at the zoo have given me a lot to share on tours, mostly in Africa, the Arctic, the Rainforest, and even in the Native American galleries."
During his time at MPM, Sam has made an impact on a variety of departments at the Museum, but most strongly within the Education program. Early in his volunteering career, he worked with other docents to create the grades 1-3 tours in the Arctic, Native American, African, Butterfly, and Rainforest galleries that are still enjoyed today. Since the creation of these tours, Sam has trained dozens of new docents on how to engage students about the wonders of the natural world. Reflecting on tours, Sam stated, "I would have to say the most enjoyable times I have at MPM are doing school tours for all grades, even adults.  I love to learn and, in turn, I love to share what I've learned."
On weekends, Sam can often be found next to an artificial taxidermy of Samson, the gorilla he cared for for so many years. He even brings in his own pictures and memorabilia from his time at the zoo. Visitors' faces light up as they learn about the life of wild gorillas, Samson's life, and what it was like to work with dozens of primate species every day. It was for this reason that Visitor Assistant Jean Waczykowski nominated Sam as Volunteer of the Month, stating, "Sam shares his unique history with guests of all ages and relays stories of the late, great Samson with affection." In fact, when Sam reflects on his favorite memories of MPM, he says, "The year 2007, when the Samson exhibit was displayed on the Second Floor. Wendy Christensen, MPM's Taxidermist, and I were involved expressing our views -- her on developing the Samson re-creation, and me sharing information as well as experiences caring for him at the zoo.  The exhibit was up the whole year of 2007, and we would both spend a lot of time there -- Wendy for a couple of hours Monday through Friday, and I coming in almost daily for a couple hours, even on some weekends."
Sam's volunteer folder is stuffed full of letters of recommendation and praise from MPM staff members and volunteers alike. In 2001, he won the Volunteer Recognition Award from the Volunteer Center of Greater Milwaukee. He was nominated by another docent, Larry Biesiadny, who highlighted all the ways Sam has worked to formalize, schedule, and train volunteers at the Museum at that time, concluding, "In many cases, Sam's determination and leadership have allowed MPM educational programs to succeed. Sam's enthusiasm and energy create interest in his projects. Volunteers want to be involved." 
Another docent, after observing him lead a school group, said, "Sam managed to engage a group of kids for what was a long tour, and the kids left smiling. He manages to do that in part by humor and personality, but there is skill and knowledge backing up the show." Even the Education Department as a whole described him as "dependable, enthusiastic, knowledgeable, adaptable, eager, a self-starter, a scheduler, a good outreach speaker, an information seeker at ease with visitors of all ages."
So, Sam, for all these things and the many more you have done for the Museum in the last 24 years: Thank you for being a part of MPM!
---

May
Tony
We are so excited to celebrate our May Volunteer of the Month, Tony Lay! Since May of 2016, Tony has served over 1,000 hours in MPM's Digitization Department. Since his start, he has supported all of our digitization projects by photographing thousands of crayfish, bees, mussels, butterflies, moths, and mammals. In addition, he has become a pro at bar-coding, image processing, and data entry.
The Digitization Collections Manager Alyssa Caywood enthused about Tony's work, stating, "Tony was one of the first people I interviewed to become a Digitization volunteer, and over the past three years he has dedicated a remarkable amount of time to helping us digitize our collections. While he's game to try anything we throw at him (always appreciated), I know that if it involves photography or image processing, he will dedicate a lot of care and attention to not just capturing the data we need, but to ensure each picture looks great."
Tony supports MPM's ongoing history with his volunteering, but the Museum is also a part of his own life story. Tony grew up in East Town, where he went to grade school, high school, and college within walking distance of the Museum. In fact, Saturdays were often spent across the street, where MPM was once housed, "being amazed by the ongoing exhibits." After earning a Bachelor of Arts from Layton School of the Arts (now MIAD), he became an Art/Creative Director, which lead to "a rewarding and awesome career." The progress of technology in his career, as art became digital, was the spark that would eventually lead him to digitization at MPM.
For Tony, volunteering and serving the community has been a lifelong passion, which includes church activities, scouting, and a variety of non-profit organizations. He says, "Volunteering challenges my creative spirit which gives me a 'Happy Face.'" Outside the Museum, Tony describes himself as "a conservation-minded grandpa and great-grandpa who still hunts, fishes and camps in our great outdoor environments and who respects the outdoors and all it has to offer."
Alyssa summed up Tony's passion well, stating, "I feel that his past professional career as well as his varied interests as an outdoors enthusiast contribute to his curiosity in our collections and ongoing support of MPM Digitization as a volunteer.  I am thankful he volunteers at MPM!" 
Thank you, Tony, for your ongoing support of MPM's past collections, current research, and its future! 
---

April
Annica
Annica has been involved with MPM's Anthropology Department for about 3.5 years, fascinating visitors and bringing smiles all along the way! Originally from Northern Illinois, she graduated from Lawrence University with a BA in Anthropology and a Minor in Studio Art. She began her time at MPM as an intern not long after, and has stayed on as a volunteer in Anthropology for the last year. 
Her work on a variety of small tasks and projects have helped MPM Anthropology Curator Dawn Scher Thomae keep the Anthro department open and moving forward. Among the multitude of hats she wears, she assists with training new interns, accomplishes any tasks related to the African and Oceanic exhibits and collections, and has helped with countless Anthropology public programs. As an intern, Annica felt one of her most valuable experiences was assisting Dawn in creating the Weapons: Beyond the Blade exhibit. "I never expected to work on an exhibit from start to finish! I am incredibly grateful to have Dawn as a mentor." 
Annica also enjoys working with the public on a variety of engagements. "One of the most rewarding parts of my MPM internship is the public engagement," she says. "I love to watch people's faces light up when I provide interpretation or create a real life connection to an artifact on exhibit for them. I've collected quite the trove of random facts over the years that I love to share with my friends, my family, and really any stranger walking about the Museum."
When not expanding the information at MPM, she's expanding her horizons. She has been to Ecuador, India, and Africa, and her focus is ethnomusicology and African dance. As Annica says, "It is not unusual to see me wandering (sometimes dancing) around the Third Floor waiting to spread some knowledge!"
As Dawn summarizes, "Annica is just an overall wonderful human being and I am forever grateful for her efforts that both keep me sane and contribute to the success of the MPM."
Thank you for all your hard work, Annica!
---
March
Susie H.
March's volunteer of the month, Susie Hess, is a familiar face both on the floors of the Museum and behind the scenes in the Education Department. She began volunteering in 2007 after retiring from Northwestern Mutual as a systems analyst. She was originally drawn in by the volunteer cart at Body Worlds  and loved explaining the human body to fascinated visitors. She then quickly signed up for other special events and carts throughout the Museum. Since then, she's become irreplaceable!
When Susie first met Amanda Kopp, the new Volunteer Manager, and Meghan Schopp, the new Education Director, during the Spring 2016 special exhibit Ultimate Dinosaurs, she wowed both women as she quietly and thoroughly stuck 4,000 pieces of velcro onto 2,000 sheets of paper. Amanda would often tell her how late it was, and she'd continue her velcro mission, saying "I'll stay until you leave."
Education has come to rely on her smiling face, dependability, and thoroughness for a variety of special events. Jennifer Keim,  MPM Educator, said, "She has a such a positive attitude, is easy to work with, and genuinely loves to help out MPM and our visitors."  She's essential to the largest volunteer events of the year, Food & Froth and Halloween Hauntings, as she assists Amanda in checking in dozens of our amazing volunteers. Staff working special events know she's not only knowledgeable, but flexible when events like Mystery @ MPM and Gala take unexpected turns. She even took a small gig in Marketing, which became a staff favorite -- as the "Susiesaurus," she dressed as MPM's famous Carla  T. rex for the Summerfest Parade, jumping up and down and dancing with the excited children that surrounded her.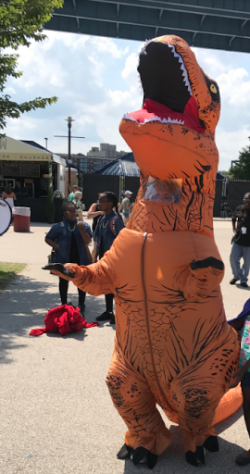 When asked about a favorite memory at MPM, Susie gave two: One was cleaning mussel specimens for a research project in 2017. After a day of using Zoology's wooden cuticle sticks and metal table knives, she bought her own set of stainless steel tools. The researcher said, "I like these new tools!" and Susie replied that was most satisfying to hear. On the floors, her favorite experience was while working on the Archaeology Cart in the Dead Sea Scrolls exhibit: "I had people tell me I made the exhibit come alive for them. What fun!"
Outside of MPM, Susie also spends a lot of time in her church, being the Librarian for the Senior Choir, Executive Secretary of the congregation, serving on the Leadership Council, and performing in the handbell choir. When she is not so generously giving her time to others, Susie loves horseback riding, traveling, hiking, and attending drum and bugle corps competitions. 
When asked why she volunteers, Susie said, "I love the variety of experiences available to me as a MPM Volunteer." And we love the variety of support you provide MPM, Susie. You're the best! Thank you for being a MPM volunteer.
---
February
Kathy D.
We are so excited to highlight Kathy D. as our February Volunteer of the Month! Although you may not see her often on the floors of the Museum, she is integral behind-the-scenes in Vertebrate and Invertebrate Zoology collections. 

Originally, Kathy began her volunteer time at the Milwaukee Public Museum in 2010, working on carts. She said, "I started volunteering at the Museum because I like learning and science, and it's a perfect place to receive and share both." In 2013, she wanted to expand her role as a volunteer, and asked the Volunteer Coordinator if there was need upstairs. Julia Colby, Invertebrate and Vertebrate Zoology Collections Manager, was looking for help with a variety of databases. It just so happened that Kathy had retired from the Medical College of Wisconsin after spending 40 years designing research databases. When she went to school, she got her undergrad in medical microbiology, but returned to get a Master's in computer science. At MPM, Kathy soon became, in Julia's words, "instrumental in untangling several legacy datasets about the Museum's collection." This included scouring through 48,000+ fish specimens and normalizing their locations, which made the data easier to search through and more useful to researchers.

Today, Kathy still helps with database entry, including validating data reported by our virtual volunteers, which crowdsource data entry for our digitization project. Perhaps more importantly, Kathy is also willing to work on the "little" projects that take time and, for some, are less than exciting. "The thing I like about Kathy the most (aside from everything)," says Julia, "Is when I give her a choice of things to do, she always asks 'what needs to be done more?' and then does that thing, even if it's tedious." This includes little things like cutting labels and moving specimens.

"I learn something new every time I'm here; I feel I'm helping the Museum toward its goals, and I love the people I get to work with," says Kathy. Truly, Kathy's work will be used by researchers for decades to come.

When she's not keeping MPM's Zoology collections in check, Kathy has a passion for food, traveling, and ballroom dance. One of her favorite hobbies, knitting, has lead to a friendship with Julia outside of the Museum. A few times a year, the pair gets together to dye yarns, knit, or just relax.
Thank for you for all your hard work, Kathy, and for being a part of the Milwaukee Public Museum!
---

January
Ben E.
We chose Ben as our first Volunteer of the Month because of his positive impact on so many departments at MPM.  Ben began volunteering at the end of 2016, and has since clocked  136 hours. In his first email to the Museum, he told the Volunteer Manager, "I am very interested in donating my time to the Museum and I see the opportunity as a natural extension of my many years of membership."
And what a donation! Originally, he began his work in the exhibit halls, combining his degree in biology with his love of dinosaurs on the Torosaur Cart. He even constructed homemade plaster-casts to better demonstrate how paleontologists work in the field.
In February 2017, he worked his first special event, Food & Froth. The rest, they say, is history. Ben has become an essential part of event planning. Sarah Manke, Development Special Events Coordinator, says, "Ben is an event ninja. He is always willing to tackle any task, is the last one to go home, and has an amazingly positive attitude." Amanda Kopp, Volunteer and Internship Manager, relies on Ben's organization and boundless energy to solve any problem that may come up when managing large events like Halloween Hauntings. "I know if an issue comes up and I get busy,  I can turn to Ben to handle it." His good humor has had an impact on other volunteers as well. When assigning event roles, other volunteers specifically ask to work with him.
Jill Engl, Events Director, calls Ben their "Super Volunteer" and says, "Ben is one of those volunteers we trust with our most complex jobs. Ben will stay until the event is wrapped, even if his post finished up earlier. Ben becomes a true part of our team and we always breathe a sigh of relief when we know we're executing events with him by our side."
In September 2018, Ben took his next step as an MPM volunteer, enrolling in MPM Docent Training. This training requires 24 hours of class time and countless hours of research. In the end, he'll be able to lead tours, interpret whole galleries, and support MPM on a new level. In regards to these trainings, Ben said, "I would be remiss if I did not shunt some of the credit for my performance to my past and current mentors. Paul did an exemplary job getting me up-and-running during my early days as a volunteer and Jim is now beyond generous with his time and knowledge during my docent preparation -- it is a pleasure to be associated with both."
When asked why he volunteers, he told us, "My personal 'philosophy' of service is that, simply put, if a friend needs help moving, I always want to be someone they can count on. More importantly, I also strive to maintain a positive and obliging attitude in order to help win the day and ameliorate any challenges that may arise, whether it be lugging an over-sized convertible sofa up three flights of stairs or guiding well-served Food & Froth patrons down three flights of escalators."
We are so glad to have on you on our team. Thanks, Ben, for all you do!