MPM with its partners and sponsors are excited to bring you special exhibit programming!
---
Community Check-Ins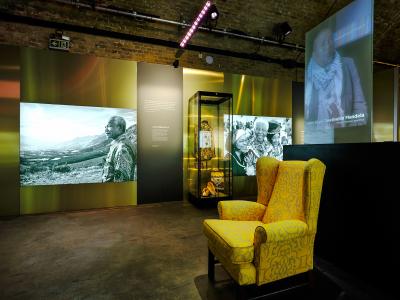 Nelson Mandela was the embodiment of two simple yet powerful principles:
Dialogue: Getting others to listen
Active listening: Getting others to speak
In the spirit of Mandela, MPM will be hosting regular Community Check-Ins during the run of Nelson Mandela: The Official Exhibition. A Community Check-In is a space where you can process and discuss the exhibit, learn more about yourself, and explore the differences in others through active listening and dialogue.
We've been living and working during the intersection of multiple pandemics: COVID-19, the fight for social justice, and an economic crisis. Amongst this all, we've been required to physically distance from our loved ones, co-workers, and community as a whole.
Facilitated by Ambrose WB, Mindfulness Coach at MISPIBO Fitness and SKY Schools, these Community Check-Ins have been designed to offer participants a safe place in the midst of a changing and often-challenging world, and a greater sense of a meaningful, connected community. Honest self-reflection and deep conversation have the power to change lives and build community. MPM Community Check-Ins provide you the opportunity to experience both.
---
Nelson Mandela International Day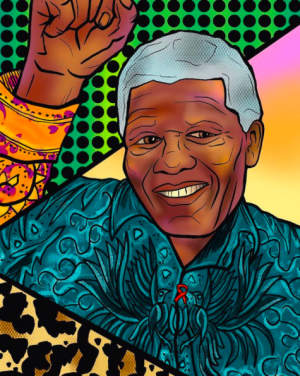 Celebrate International Nelson Mandela Day at MPM with family-friendly activities AND all-day free admission to the Museum + Mandela*!
In-person, outdoor activities and events will include:
Compare and contrast the struggles for racial justice of South Africa and Milwaukee with our timelines
Visit with the Artist's Working in Education's (AWE) Rising Arts Council and see their Mandela exhibit-inspired art installations (preview pictured to the right!)
Pick up an art kit curated by AWE
Take the "My Mandela Pledge"
Learn the South African Boot Dance with a demonstration by Ko-Thi Dance Company at 3:00 p.m.
---
Commemorative Days
South African Youth Day, June 16
South Africa commemorates Youth Day every June 16 in remembrance of the June 16, 1976 student uprising when more than 3,000 students marched peacefully for an equitable education system. Learn more about this event, known as the Soweto Uprising, and its impact on the larger struggle against apartheid.  
Juneteenth, June 19
Juneteenth commemorates June 19, 1865, when Union Army General Gordon Granger declared the enslaved people of Texas free. This important moment in history has grown into an annual celebration of emancipation and freedom. 
---
My Mandela Pledge
Don't wait for Nelson Mandela International Day, start today!
Each year on Nelson Mandela International Day, July 18, people are encouraged to spend 67 minutes in service of others through volunteerism and community service. Sixty-seven minutes represents the 67 years Nelson Mandela spent fighting for social justice. Throughout the run of Mandela: The Official Exhibition, we hope to inspire you to make Mandela Day every day. Honor Mandela by continuing his journey and take this challenge in service to others. 
My Mandela Pledge is generously supported by Brewers Community Foundation and U.S. Bank.
---
PLANETARIUM PROGRAM
From the dawn of time, African people have looked to the skies above for inspiration and guidance. Stargazers of Africa, brought to you by Generac, is a journey connecting the stars, moon, and planets to the people across this great continent—from long ago to the stargazers of today.
---
Mindful Moment
Nelson Mandela practiced Mindfulness and Meditation throughout his life. Join Wellness Coach Ambrose WB for a short, guided relaxation session.
---
Additional Resources
Looking to do some more research on your own? 
Apartheid Museum
Nelson Mandela Museum
Robben Island
Nelson Mandela Foundation
Timelines
South Africa and Milwaukee have rich histories of militant, principled struggles for racial justice. Use these two timelines to compare and contrast the tactics, timing, and outcomes of these local and international efforts to create an equitable future.
---
Past Events
Systems of Racial Violence Discussion
Session 1 - Evil Twins: Histories of Apartheid and Jim Crow
This discussion considers the uniqueness and similarities of Jim Crow and Apartheid. The panel includes experts who have studied and experienced both systems.
Session 2 - The Long Struggle: Resistance Movements Against Apartheid and Jim Crow
This panel discussion explores resistance movements to Jim Crow and Apartheid. It also includes current activists challenging the lingering vestiges of racially oppressive systems.
Milwaukee's Fight for Social Justice
In this two-part series, we explore Milwaukee's changing social and racial justice landscapes with the help of guest experts.
Session 1: Looking Back with Reggie Jackson, Co-Founder, Nurturing Diversity Partners
We examine past social movements in Milwaukee and how they've contributed to progress already made. 
Session 2: Looking Forward with Urban Underground
We'll learn from a new generation of activism in Milwaukee, and what that means for the struggle going forward.

Freedom Day
The annual South African Freedom Day celebration commemorates South Africa's first non-racial democratic elections, which happened on April 27, 1994. Learn more about the meaning of this important day and Nelson Mandela's reflections on the first anniversary of the election.