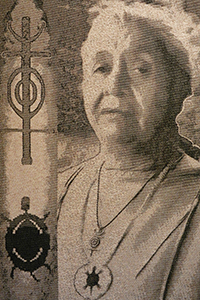 In the   Ancestral Women   exhibit, award-winning jacquard weaver Mary Burns honors women's journeys by creating their portraits in jacquard weavings.
The   Ancestral Women   project features elders from Wisconsin's 12 tribes, and was conceived to portray the strength of ancestral women around the world, both elders and their contemporaries, and to honor their journeys. 
Please join us for a free, special talk with exhibit artist  Mary Burns on Saturday, November 16 at 11:00 a.m.
This exhibit is free and open to the public.