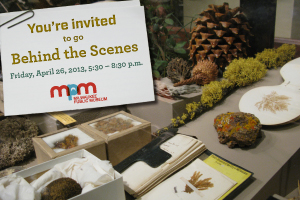 Explore the floors that are usually "off limits" to visitors, and talk to the educators, artists, collections managers, and planetarium and theater staff members who work behind the scenes.
When: 5:30–8:30 p.m. Friday, April 26
Cost: Free for Enrichment Club, Corporate Partners, Explorer's Circle, Adventurer's Circle, Curator's Circle, President's Circle and Akeley Society. Members may upgrade their Pathfinder or Pathfinder Plus membership to the Bronze Enrichment Club level to attend Behind the Scenes. For an upgrade, please call:  (414) 278-6170.
Reservations: Reservations required by Wednesday, April 24.
Space is limited. Call (414) 278-6170 or (888) 700-9069 to
reserve. Reservations cannot be made online.
---
Department Highlights:
The Dark Side of the Dome: The Daniel M. Soref National Geographic Dome Theater & Planetarium
Syrian Ceramics – Seriously!: Library
Bringing Silurian Reefs to the 21st Century: Geology Department
Geology of Northern Wisconsin's Gogebic Mining District: Geology Department
Dinosaurs of the Third Planet: Geology Department
Gilbert Raasch: A Legacy Found in MPM Fossil Collections: Geology Department
Footprints in the Sand: Geology Department
Planning, Design & Production of the new Ancient Worlds exhibit: Exhibits & Graphics Department
What Will You Find?: Vertebrate/Invertebrate Zoology Department
Air Guns of the Nunnemacher Collection, a sampling: History Department
The Vote!: History Department
From the Vaults – Student Object Research: Registrar Department
King Tut's Steeds: Taxidermy Department
A Final Look at MPM's Historic Typewriters: Conservation Department
Shrunken Heads: Fact & Fiction: Anthropology Department
Far From Home: Bringing the Philippines to the 1904 World's Fair: Anthropology Department
Crafting the Natural World: The Waiwai of Guyana: Anthropology Department
What's New in Anthropology? The Simon Collection from Kenya: Anthropology Department
Ivory!: Anthropology Department
Saving or Inventing Culture? American Indian Enthusiasts: Anthropology Department
Darkness Illuminated: Anthropology Department
Llama, Alpaca or Bear…Oh My!: Anthropology Department
New Life from Dead Plants: The Many Uses of Plant Collections: Botany Department
---
Parking
Members receive discounted parking at MacArthur Square parking structure. Have your parking ticket validated at any ticket window or at the Member Services Center to receive the $5 discounted rate.
Cafe and Coffee Kiosk
The cafe and coffee kiosk located on the Ground Floor will be open until 6:30 p.m.
Museum Marketplace
The Marketplace will be open from 5–9 p.m.
The following areas will be open during this event.
Ground Floor: The Daniel M. Soref National Geographic Dome Theater & Planetarium
Fourth Floor: Geology, Library          
Fifth Floor: Exhibits & Graphics, History, Vertebrate & Invertebrate Zoology
Sixth Floor: Anthropology, Botany, Conservation, Registrar
Summary Image