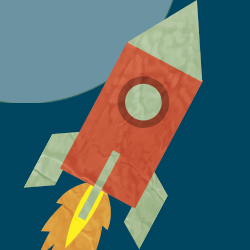 Little space explorers will love an astronaut-themed birthday adventure, and parents will love how easy we make the whole process! Birthday parties include admission to Alien Worlds and Androids, an immersive planetarium experience, cupcakes, and hours of space-age fun!
What's Included?
Gift bags for each child. The birthday child will receive a special gift just for them!
Printed invitations, thank you cards, and envelopes.
Three hours of party space rental.
General admission to the Museum and special exhibition Alien Worlds and Androids.
Cupcakes and milk for the entire group.
Decorations, place settings, set-up and clean-up.
A one-year Family & Friends Classic Membership for the host family!
When: Available Saturdays and Sundays throughout the run of Alien Worlds and Androids.
Cost: $25 per child, $10 per adult chaperone, $15 per extra adult. Register at least four weeks in advance at (414) 278-6933. 
Learn more about our themed Birthday Parties »