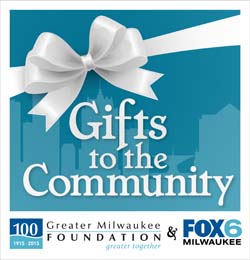 Presiona aquí para información en español »
Free Weekend Admission!
9 a.m. - 5 p.m. Saturday, January 24 and Sunday, January 25
The Greater Milwaukee Foundation will be offering an all-access, free weekend at MPM as part of their year-long Gifts to the Community series. No reservations are required, and all are welcome. In addition to free general admission, the January Gift to the Community will include free admission to the Daniel M. Soref National Geographic Dome Theater & Planetarium, featuring the show Cosmic Colors. All guests will be treated as "members for a day," entitling them to discounts on food, beverages and gifts. Throughout the weekend, museum educators will add insight to exhibits while enactors dressed in period attire will interact with guests on the Streets of Old Milwaukee.
Learn more about this great event on the Greater Milwaukee Foundation's website »
Not sure where we're located? Get our location and parking information »
About the Greater Milwaukee Foundation's Gifts to the Community
In honor of its centennial in 2015, the Greater Milwaukee Foundation invites the entire community to join in a year-long celebration of the generosity and dedication to the common good that inspired the Foundation's creation 100 years ago.
Throughout the year, the Greater Milwaukee Foundation will provide the public with unique experiences that showcase the people, places and opportunities that make greater Milwaukee special. Centennial Gifts to the Community will emphasize access and appreciation while highlighting the remarkable resources of the region. The Foundation is teaming up with local nonprofits and FOX 6 Milwaukee to announce a new Gift to the Community each month.