Planetarium - One World, One Sky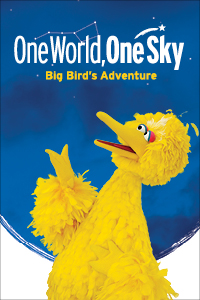 Take an adventure with Big Bird into outer space and learn about the Sun, the Moon, and the constellations. Together with Elmo and a new pal from China, Hu Hu Zhu, you'll see the night skies from Sesame Street, Zhima Jie, and all over earth. On this cross-culture voyage, our little viewers will discover how different outer space is from Earth, and how people all over the world are connected to each other. For children ages 4-6. One World, One Sky plays at 9:30 a.m. every Saturday morning.
This Daniel M. Soref Dome Theater & Planetarium show is funded by PNC.
Tickets available online
Buy Now
 
Upcoming Dates
Saturday, May 16th, 9:30AM

Saturday, May 23rd, 9:30AM

Saturday, May 30th, 9:30AM

Thursday, June 4th, 9:30AM

Saturday, June 6th, 9:30AM

Saturday, June 13th, 9:30AM

Saturday, June 20th, 9:30AM

Saturday, June 27th, 9:30AM

Thursday, July 2nd, 9:30AM

Saturday, July 11th, 9:30AM