MPM offers a variety of fun and educational camps for children entering grades 1-4 in Fall 2019.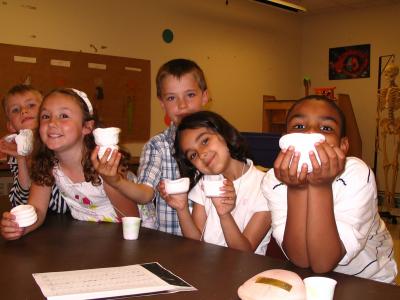 Campers will explore exhibits while investigating their camp topic, engage in hands-on activities and demonstrations, meet Museum experts, enjoy a Planetarium program or Dome Theater show, and more!
Camps are now closed to sale. See you next year!
 
When
Monday-Tuesday or Wednesday-Thursday
9:30 a.m. - 3:30 p.m.
Cost per camp
$85, $75 members
Click on dates below to purchase.
What to Bring
Please provide your child's lunch and drink each day in an insulated bag labeled with their name.
Who can come
Camps can only be attended by registered campers. Chaperones, unregistered siblings, or friends are not permitted to attend.

Note: Camps are structured specifically for the stated grade levels. Campers must be entering the grade levels specific to a camp in Fall 2019. No exceptions allowed.
---
June Camps
CLOSED TO SALE
Discovering Dinos (grades 1-2)
Discover new and rediscover old favorites from the wonderful world of dinosaurs! Examine real dinosaur fossils, think like a paleontologist, and learn how these amazing reptiles lived.
Prehistoric Planet (grades 1-2)
Not every prehistoric animal was a dinosaur! Discover animals that lived before, during, and after the time of the dinosaurs by investigating their fossils.
Dig into Dinosaurs (grades 3-4)
Spend your camp days with MPM Educators and scientists learning about the science of dinosaurs and paleontology. Conduct a Museum Dino Dig, investigate how geology informs us about the past, and dig into the relationships between the extinct dinosaurs and creatures still living today. We'll research prehistoric timelines and create your very own set of fossils!
Mummy Madness (grades 3-4)
Got mummies? We do! Join us for Mummy Madness as we use the Museum's exhibit Crossroads of Civilization: Ancient Worlds of the Near East and Mediterranean as our research lab. Campers will investigate the science of mummification by wrapping a replica mummy, match wits with the Museum's famous Mummy Trivia Quiz, and get up close and personal with the Museum's two Egyptian mummies, Djed-Hor and Padi-Heru.
August Camps
CLOSED TO SALE
Buzz, Flutter, & Fly (grades 1-2) 
Get up close to real live insects from around the world in this camp! Learn what insects eat, where they live, and the important jobs they have in our environment.
Eco Expedition (grades 3-4)
August 7-8
Our beautiful planet has so many interesting and intricate ecosystems, and the Milwaukee Public Museum brings them right into our community! Come along for a close look at worldwide plants, animals, and humans, and the ways in which these systems are different, the same, but still connected.
---
FAQ
Where and when do I check in?
The check-in table is located near the MPM café. (see map). Early care check-in begins at 8:00 a.m. and regular check-in begins at 9:15 a.m. You must accompany your child into the building and check in with camp staff by 9:25 a.m. During check-in we will verify emergency contact information and any health or medical information. If you arrive after 9:30 a.m., please check in at the Visitor Services desk.
Where and when do I pick up my child(ren)?
Check out is at 3:30 p.m. sharp in area off of concourse (see map). Notify the camp teacher and sign your child out. Camp teachers will wait with children until 3:45 p.m. Those arriving after 3:45 p.m. will be charged $5 (cash) per every 5 minutes they are late. Anyone picking up your child must present an ID and must be listed on your camp registration forms.
How do I sign up for early care?
Please sign up for early care when you register. The cost is a $10 flat fee for 2-day morning care and a $25 flat fee for week-long morning early care. There is no late care available.