Since our inception in 1882, the Milwaukee Public Museum has been led by our mission—inspiring curiosity, exciting minds, and increasing desire to preserve and protect our world's natural and cultural diversity—and now, we must reimagine how we live it out in the years to come.
As our current home deteriorates and threatens our financial stability, the safety of more than 4 million objects and artifacts in our collections, and our ability to retain accreditation, there is an urgent need to secure MPM's future and a once-in-a-lifetime opportunity: to create the active museum our community and world need now.
The Museum has always been shaped by the community, and the future museum will not just continue that tradition, but make it the heart of the museum. The vision for your new museum is built upon five foundational pillars that were identified by community focus groups: 
Understanding the past and present to inform the future.
We help visitors explore how different people and cultures have been connected to — and influenced by — the natural world.
Activating collections and giving visitors access to original research.
We put our experts and collections front and center, engaging visitors with what happens behind the scenes and sparking important conversations about issues that inspire future scientists.
Learning science by doing science.
We create citizen scientists through programs that ignite collaborative learning for people of all ages and abilities.
Creating access and engagement statewide.
We deliver educational dialogue, digital resources, and hands-on activities across Wisconsin to help people explore nature and culture connections wherever they live, work, and play.
Being a relevant and trusted resource.
We remain a trustworthy connector of current information, debate, and innovation created through research partnerships with statewide universities and respected institutions.
In addition to these pillars, several core themes will run through all experiences and exhibits in the future museum. With these themes as the foundation, each exhibit will explore the inspiring interconnectedness of nature and culture and how we use this knowledge to interact and shape one another.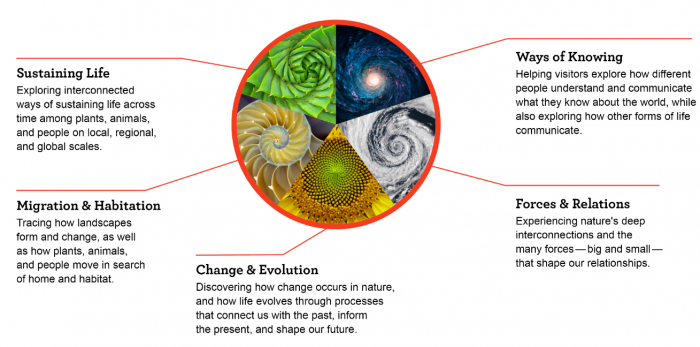 Sustaining Life
Exploring interconnected ways of sustaining life across time among plants, animals, and people on local, regional, and global scales.
Migration & Habitation
Tracing how landscapes form and change as well as how plants, animals, and people move in search of home and habitat.
Change & Evolution
Discovering how change occurs in nature, and how life evolves through processes that connect us with the past, inform the present, and shape our future.
Ways of Knowing
Helping visitors explore how different people understand and communicate what they know about the world, while also exploring how other forms of life communicate.
Forces & Relations
Experiencing nature's deep interconnections and the many forces — big and small — that shape our relationships.