Throughout 2019, MPM will celebrating 50 years of our volunteer program!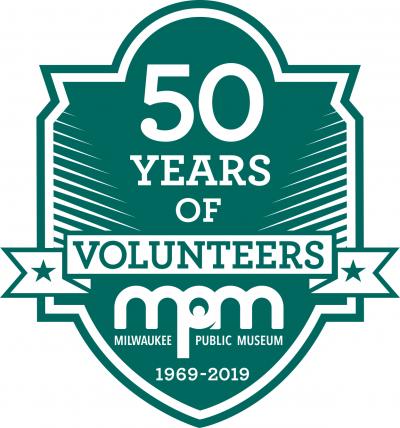 We hope the next time you're in the Museum, you'll take a moment to thank one of our amazing volunteers. Or, better yet, become one yourself!
Volunteers have been a part of the Milwaukee Public Museum since its very beginning as the German-American Academy. However, it wasn't until 1969 that the first formal educational volunteer program was established. This program, The Muses, was created by Jean Lindemann, a long-time volunteer, supporter, and fundraiser for MPM.
Through this program, five decades of dedicated volunteers and docents shaped the Museum as we know it today. Volunteers have brought our exhibits to life for thousands of visitors, supported fundraising for dozens of exhibits, and contributed countless hours behind the scenes protecting our exhibits.
Current Volunteers
Volunteers are an integral part of MPM. We have over 200 volunteers who give their time each year, and we are so appreciative of all the ways they contribute to our community!
On the Floor
MPM volunteers are often found delighting visitors on the floor of the Museum. In the past year, volunteers have spent over 4,000 hours talking with nearly 68,000 visitors. Volunteers love exhibits so much, they logged over 1,000 hours in personal research in the past 12 months!
Behind the Scenes
The behind-the-scenes volunteers are a select group of 22 highly-trained individuals who gave 3,292 hours in the past year. They work with curators and collections managers to research,  categorize, and maintain our important collections. Several also work in the Education Department, preparing materials for special events and exhibits.
Fundraising and Events
Many of MPM's exciting events could not be held without the support of hundreds of volunteers to keep things clean, guests oriented, and the party going! Here's a look at 2018's special events that would not have been possible without volunteers:
Food and Froth
Mystery at MPM
Adult Overnight
A Moveable Feast
Summer Connections
Annual MPM Gala
Halloween Hauntings
Scandal and Sleaze