MPM's Education Department and UWM history undergraduate students create an annual reenactment on Twitter of an event from Milwaukee history.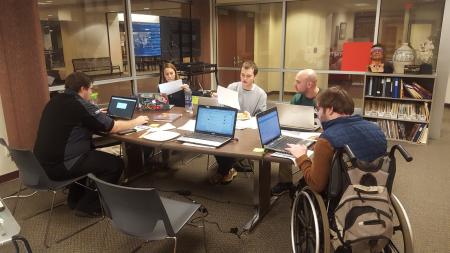 Participants each select a character and conduct further original research to develop their character and how that individual was a part of the larger event. Their research culminates in a series of first-person tweets chronicling their character's experience. 
---
Event Details
This year's re-enactment will be of an important event from local history and science history: the first official weather forecast in the United States, issued on November 8, 1870 by Milwaukee naturalist Increase Lapham. You'll hear directly from different real and fictionalized historic figures, based on the students' original research, about their part in this landmark moment that made the weather more predictable for everyone. Follow along the morning of November 5 on Twitter at #MKE70.
This photo features Increase Lapham studying the Trenton meteorite, which today is part of MPM's collections. To learn more about Lapham, a local scientist, naturalist, surveyor, geologist, and writer, visit UWM's Encyclopedia of Milwaukee. You can also follow the students' research throughout the semester on Twitter at @HIS450MKE. 
Date and Time
Thursday, November 5, 2020
9:30 a.m. - Noon
---
past reenactments 

In 2018, we braved an unexpected winter blast as we reenacted the Armistice Day blizzard of 1940. The characters included outdoor enthusiasts, Great Lakes ships' crews, municipal officials, and weather scientists. 
In December 2017, we "tackled" the Green Bay Packers 1939 championship win over the New York Giants, played at State Fair Park. The characters included lightly fictionalized fans, local workers, press, players, and family members. Preview this reenactment below, or click here to read the full story!