Coming February 13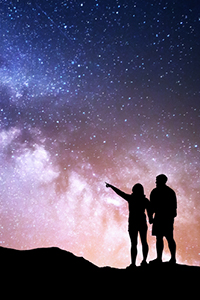 Catch the Valentine's program Romancing the Stars. Couples can embark on an out-of-this-world date at the Planetarium, complete with a romantic tour of the universe and a look at which star clusters are actually "constellations of love."
A red rose and box of chocolates will be given to each couple.
---
Coming March 21 - October 1, 2020
Constellations! Adventures Connecting Earth & Sky 
Constellations are a mirror to the human soul. Their inspiring stories reflect our hopes and dreams—and our sense of adventure!  Constellations! Adventures Connecting Earth & Sky will circle the globe and bring these rich and engaging sky-legends to life. It will explore how constellations helped organize the sky and tell time. Audiences will depart the Earth, witnessing how constellations change when traveling through the galaxy. Visitors will also marvel at how we also create wild pictures from the Moon and distant nebulae. Discover all the inspiring imaginations in the constellations!