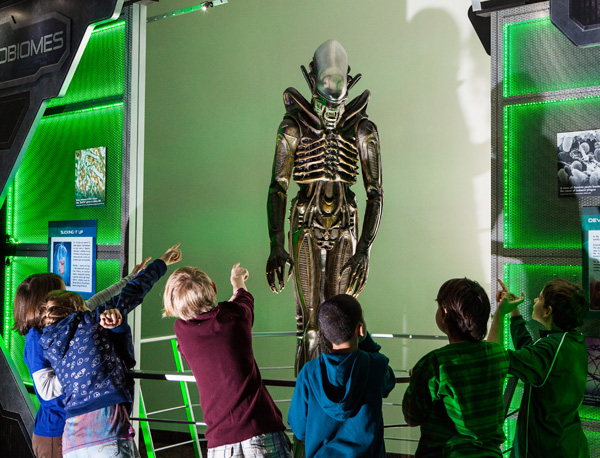 Alien Worlds and Androids closed January 11, 2015.

Tickets: Call (414) 223-4676 or purchase online »
Cost: $5 with regular MPM admission, FREE for members
Blast off to a world where science fiction meets science fact. In Alien Worlds and Androids, you will explore cutting-edge science and come face-to-face with the fantastic worlds depicted in your favorite science fiction films and books.
Aliens and androids were once confined to the worlds of our imagination. Today, however, scientists are continuing to push the boundaries of science and technology to find real alien life right here on our own planet. These discoveries are forcing us to rethink space exploration, the definition of life, and even what it means to be human. Aliens, it seems, not only live among us: as we learn more about the cells in our bodies, we are discovering that they live inside us, too.
How close are we to discovering new alien worlds and alien life? What are the differences between an android and a robot? How has science fiction led to scientific reality? Are we slowly becoming one with our machines? Find out in the great interactive exhibition Alien Worlds and Androids.
Add a Dome Theater Show
Promote Title
SPECIAL EXHIBITION
Promote Text
Blast off to a world where science fiction meets science fact. Now on exhibit!