While the scientists are in the field, join us for fun during the BioBlitz at Wehr Nature Center!
 

---
Date and Time
Friday-Monday, June 18-21, 2021
Location
Wehr Nature Center & Whitnall Park
Cost
FREE
What is a BioBlitz?
It's a 24-hour celebration of biodiversity where scientists work together to see how many species of plants and animals they can find in one area. Learn more about MPM's BioBlitz.
Why Wehr Nature Center?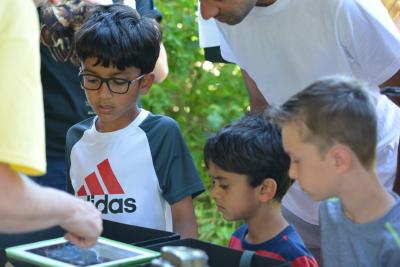 Wehr Nature Center and Whitnall Park contain a unique set of diverse natural environments in a familiar suburban setting. We think there's no better place to be reminded that there is astounding biodiversity in your own backyard, and how important that biodiversity is to all of us.  Wehr Nature Center is also fully accessible, making this an event for everyone!
In-Person Activities
Stop by Wehr Nature Center for fun in-person activities for the whole family!
Some events require advanced registration. Please visit Wehr Nature Center's calendar or call 414-425-8550 for more information.
Friday, June 18: Bat night, 9:00-10:00 p.m.
Saturday, June 19: Bumblebee hike, 9:00-10:00 a.m.; Up-close with a scientist, 11:00 a.m. and 2:00 p.m.; Birdwatching, 2:00-3:00 p.m.; Moth night, 8:30-10:00 p.m.
Sunday, June 20: Bird hike, 7:30-9:00 a.m.; Butterfly monitoring, 1:00-2:00 p.m.
Monday, June 21: Phenology hike, 8:00-9:00 a.m.
---
Meet the MPM BioBlitz Team Leaders!
Dr. Ellen Censky – President & CEO
Ellen is a vertebrate biologist and was involved in organizing the very first public-based BioBlitz in 1996 in Pittsburgh, Pennsylvania. She has overseen 14 BioBlitzes in three states since then. The BioBlitzes that she organized were featured on a National Geographic Explorer program, in the Smithsonian Magazine, Ranger Rick Magazine, NBC National News, NPR, USA Today, and numerous other radio shows and newspapers. She also wrote the guide for "How to Organize a BioBlitz."
Julia Colby - Organizer
Julia is the Vertebrate and Invertebrate Zoology Collections Manager at MPM. Her interests include taxonomy, systematics, and ecology. She holds a BSc  from the State University of New York College of Environmental Science and Forestry, and an MSc from the University of Nebraska - Lincoln. She will organize and coordinate the teams that survey the vertebrate animals.
Dr. Jennifer Zaspel - Team Leader for Invertebrates
Jen is the Academic Dean at MPM. Her research program is focused on insect systematics and the evolution of their behaviors, including defensive strategies against vertebrate predators. She holds a BSc and MSc in Entomology from the University of Minnesota, and PhD in Entomology and Nematology from the University of Florida. She will organize and coordinate the teams that will survey insects and other invertebrate animals.
Dr. Christopher Tyrrell – Team Leader for Plants & Fungi
Chris is an Adjunct Curator at MPM. He investigates plant systematics and evolution, and is interested in developing research tools for museum collections. He holds a BSc  in Forest Ecosystem Restoration from University of Wisconsin - Stevens Point, an MSc in plant systematics from Iowa State University, and PhD in aquatic ecology from the University of New Brunswick (Canada). He will organize and coordinate the teams that will survey plants, algae, lichens, and fungi.
Mike Pauers - Team Leader for Vertebrates
---
Thanks to the Antonia Foundation for their support for this event.