We're exploring the space where science and culture intersect, and we're doing it over drinks.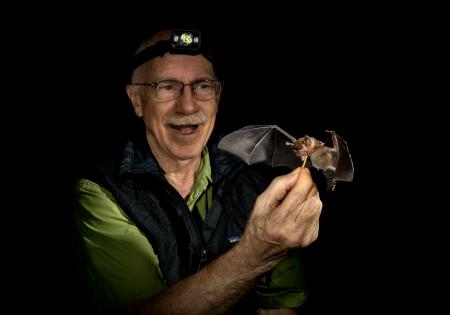 Grab a brew and pull up a chair for Science on Tap with Dr. Merlin Tuttle!
Date and Time
Thursday, November 15, 2018
6:00 p.m. social hour, 7:00 p.m. lecture
Cost
$5 members, $10 non-member
Members must log in to receive benefits.
Not a member? Join today! 
---
The Incredible World of Bats — Why We Need Them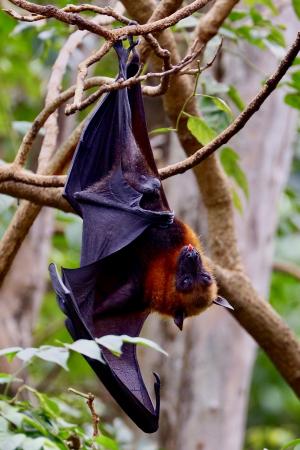 Dr. Merlin Tuttle — Founder and Executive Director of  Merlin Tuttle's Bat Conservation and Research Fellow, Department of Integrated Biology, University of Texas at Austin
Bats comprise a fifth of all mammals. They come in an incredible variety, as cute as any panda or as strange as any dinosaur, from tiny bats that live in beetle holes in bamboo to giant flying foxes with six-foot wingspans.
They're found nearly everywhere, are primary seed dispersers from deserts to rainforests, pollinate some of the world's most valuable crops, and save American farmers billions of dollars annually in avoided pesticide use. 
They maintain long-term social relationships similar to those of humans, elephants, and dolphins, share information, and even adopt orphans. 
See Dr. Tuttle's  stunning photographs showing bats courting mates, living in pitcher plants and termite nests, pollinating an amazing variety of flowers, fishing, catching frogs and insects, and much more during this dynamic evening lecture! 
---
About the Speaker
Many of his most fascinating research discoveries and conservation accomplishments were made while serving as Curator of Mammals at the Milwaukee Public Museum. He has traveled the world for more than 55 years studying and photographing hundreds of species of bats, from bizarre to beautiful. His extraordinary photographs have been published and exhibited worldwide, including in five National Geographic articles. He has been an invited speaker at America's most prestigious institutions, from Harvard and Princeton Universities to the National Geographic Society and Smithsonian. He also founded Bat Conservation International 1982 and Merlin Tuttle's Bat Conservation in 2014. To see his photographs and current work, go to MerlinTuttle.org.