Learning is always open at MPM.
As Wisconsin's resource for nature and culture, we are committed to being there for you and your family as we navigate this together. 
On this page, you'll find dynamic content from our new weekly newsletter — fun activities, engaging stories, and more. Sign up to receive it in your inbox each Wednesday, or browse here for the highlights!
---
CONNECT WITH US
Stay connected with MPM via our weekly newsletter! 
View previous newsletter issues in-full here:
Week 1 Week 2 Week 3 Week 4 Week 5 Week 6 Week 7 Week 8 Week 9 Week 10 Week 11 Week 12 Week 13 Week 14 Week 15 Week 16 Week 17 Week 18 Week 19
---
Fun Things To Do
We've got plenty of fun things for kiddos to do with their adults!
---
LIFELONG LEARNING
Adults: You're never too old to learn something new!
MPM Untold
Get an inside look at the Museum's collections and research when you watch MPM Untold, a series that tells you the stories you don't know. Then, test your new knowledge with our quizzes!

What Our Curators Are Reading
Spillover: Animal Infections and the Next Human Pandemic by David Quammen
Damn the Old Tinderbox!: Milwaukee's Palace of the West and the Fire that Defined an Era by Matthew Prigge
A Sand County Almanac: And Sketches Here and There by Aldo Leopold
Aztalan: Mysteries of an Ancient Indian Town by Robert Birmingham and Lynne Goldstein
Question with an Expert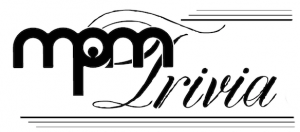 Who doesn't enjoy some friendly competition? Test your MPM knowledge remotely against your friends and family with questions on your favorite exhibits, labels, and research! 
Trivia #1 Trivia #2 Trivia #3 Trivia #4 Trivia #5 Trivia #6 Trivia #7 Trivia #8 Trivia #9 Trivia #10
MPM's original Planetarium productions are now available online! Explore the skies with Planetarium Director Bob Bonadurer.
---
MPM INSIGHTS
What will you find… behind the scenes?
Google 360
Check out a 360-degree view of our labs and learn some fun facts. You may find a surprise guest hidden in each room! 🐍
Check out this timelapse video of the Museum's Green Roof construction. 
Creating an Exhibit
Discover just what goes into creating an exhibit as we look back at the process used to create Crossroads of Civilization and A Tribute to Survival.
---
COLLECTIONS CONNECTION
Learn about some of MPM's unique exhibits, artifacts, objects, and specimens!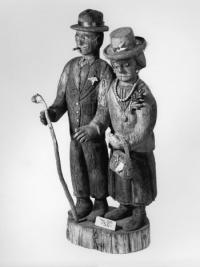 These Jones Island figurines are rare folk art carved by John Mickowski.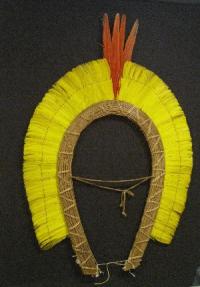 This Kayapo headdress of yellow oropendola and red macaw feathers from Brazil came into MPM's collections in an unusual way.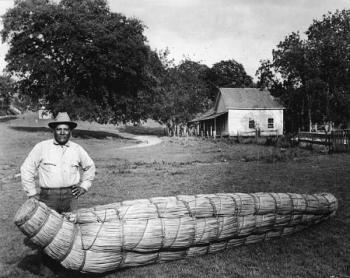 The Tule Boat seen here is one of the oldest Native American boats at the Museum.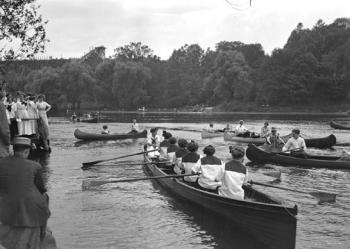 Our Sumner W. Matteson photography archive is the travel record of an adventurer who saw the frontier become a settled society.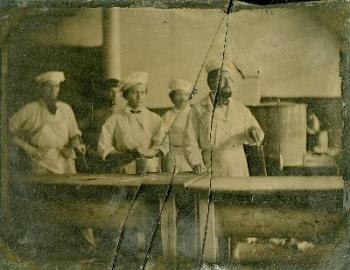 This rare glass plate image features the Chef and his assistants at the Newhall House Hotel, the destination hotel and restaurant for many Milwaukee social functions which opened in 1857.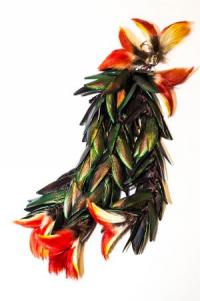 These iridescent men's ear ornaments (akitiai) from the Shaur (Jivaro) who live in the Amazon region of Ecuador and Peru are composed of beetle elytra (forewings) and toucan feathers.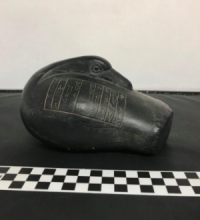 This duck weight is a plaster reproduction of one that was found at the ancient Mesopotamian city of Ur in what is now known as Iraq.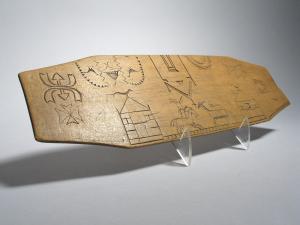 The Ojibwe created dream boards by carving images into wood that would serve as a visual record of an event.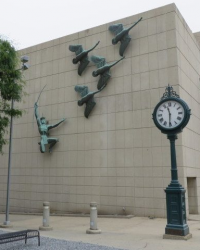 The bronze sculpture of the kneeling Native American man and geese displayed on the exterior wall of MPM was created by art deco artist Marshall Fredericks in 1963.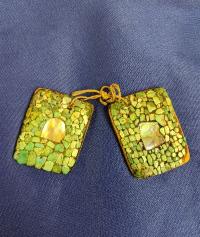 These Hopi earring pendants from Arizona are made of small pieces of blue and green polished cut turquoise with an abalone shell fragment in the middle.
---

We received an urgent report from our Museum Security staff that our dinosaurs are lonely! Can you send us something to cheer up our dinos? A drawing, a photo, a song... Anything, please! 
---
Animal Crossing Virtual Museum 
Have you been playing Animal Crossing: New Horizons during isolation? Our staff were thrilled to find many of the specimens you can collect can also be found in MPM's collections!
---
Share with Us
Tell us what you found the last time you were at the Museum, or share your favorite shots of yourself doing activities from the weekly MPM Connection. 
Use #MPMWhatWillYouFind on social media for a chance to be featured!