Your hub for learning about the future of your Milwaukee Public Museum!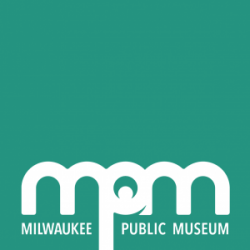 The Milwaukee Public Museum (MPM), along with internationally recognized museum planning and design firms and renowned local architects, have been working to conceptualize what a future Museum could look like — and MPM is thrilled to reveal these bold concepts to you, with more to come later this year.
After an extensive study of options, advancing a new building was the path chosen by the Board of Directors as part of MPM's re-accreditation plan to address challenges in the current County-owned building. Accreditation by the American Alliance of Museums is the museum field's mark of distinction, and it is necessary to receive major grants and to bring in traveling exhibits. 
Fundamental to creating these initial plans, MPM sought community input by surveying and interviewing more than 10,000 Wisconsinites at the Museum,  throughout the city at locations and events like the Indian Summer Festival, the Maker Faire,  Fondy Food Market, and across the State.
The future Museum will be the fifth home of your Milwaukee Public Museum and will welcome visitors from across the globe, inspiring curiosity and an exploration of our world—just as we have done for 136 years. Our promise to you is that our new home will combine the spirit and wonder of our current home, while providing our visitors with fresh exhibits and new technology that reflect cutting-edge research and scientific understanding.
Great cities have great museums. MPM is truly Wisconsin's Natural History Museum. There is much planning and work ahead to turn this vision into a reality in the coming years. We all have an important role to play, and we look forward to furthering our partnerships with Milwaukee County, the State of Wisconsin, the City of Milwaukee, and private donors to realize this great civic  vision.
We invite you to check back often, see what's new, and let us know what you think at future@mpm.edu!
---
Update: MPM Exploring Several Potential Partnerships & Locations
10/25/2018
MPM is excited about its future and is continuing its exploration of possible compelling concepts, dynamic partnerships, and several potential locations. MPM's initial investigation for its future location is just getting started with much thorough due diligence ahead. Although there are many bold ideas and inspiring visuals below, planning and designing a new museum facility is a significantly complex project and there will be many ideas MPM will be exploring over the coming months.

Among the many possibilities MPM is looking at, there are two potential concepts for a future MPM location that will be in the public spotlight over the coming months:
One concept involves bringing three of Milwaukee's beloved cultural institutions onto one campus in the heart of downtown -- the Milwaukee Public Museum, the Marcus Center for the Performing Arts, and the Betty Brinn Children's Museum on the current site of the Marcus Center Parking Garage. Initiated and led by the UW-Milwaukee School of Architecture and Urban Planning and the 2017 Marcus Prize winner Jeanne Gang, a studio of talented graduate students is currently envisioning several innovative and bold concepts for a shared cultural campus. The work of the students will be completed and shared publicly in December 2018.
 
Announced in late October, County Supervisor Marina Dimitrijevic has proposed Mitchell Park as a possible site for the new Milwaukee Public Museum and recommended a combined governing structure to manage the Museum and the Mitchell Park Horticultural Conservatory. As an amendment to the 2019 County Budget, the County Board of Supervisors' Finance and Audit Committee has recommended the creation of a new task force created by Milwaukee County to explore the feasibility of collocating the facilities in Mitchell Park. MPM will participate in the task force and is interested in the findings the process will produce.
These are just two potential concepts for the future Milwaukee Public Museum, and there remain many viable locations under consideration. MPM also remains open to new options that will best serve the needs of the public.
---
Rinka Chung Concept
This visionary concept for a future museum building was created by local firm Rinka Chung Architects, with the work graciously donated to MPM pro bono by firm owner Matt Rinka. Additional visuals of this concept can be found below.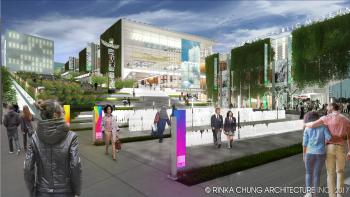 ---
Zimmerman Architectural Studios Concept
Milwaukee firm Zimmerman Architectural Studios used MPM as a case study for their design teams to create several concepts on sites of their own choosing. One of the Zimmerman design teams played with the idea of an MPM concept located on Milwaukee's lakefront.
      
---
New concepts coming later this year!
---
Exhibit Design Concepts
These future exhibit design concepts were developed by major museum design firms around the country, including Gallagher & Associates (Washington, D.C., New York, San Francisco and Singapore), Luci Creative (Chicago and Boston), Local Projects (New York City), Peter Hyde Design (Brooklyn, NY), and MPM's very own exhibit designers, both past and present.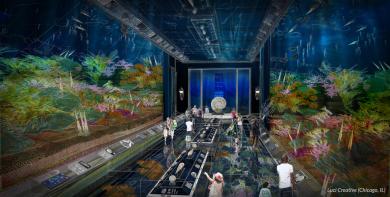 ---
This presentation, created in conjunction with Gallagher & Associates (Washington, DC and Singapore), helps define and contextualize the reasons a new museum building is needed and makes a case for support.
---
Dig deeper! As a resource for the public, we've posted an extensive and evolving FAQ to reflect current information about our planning process.
---
Affiliated Engineers in Madison undertook a pro bono energy usage study for the museum building concept created by Rinka Chung Architects.
---
This webpage will be updated with the latest information as MPM moves forward with identifying a site for the new museum building, and as additional architectural concepts are released later in 2018.
Let us know your thoughts at future@mpm.edu!