Take a guided tour with Museum experts and experience MPM in a brand new way! 
---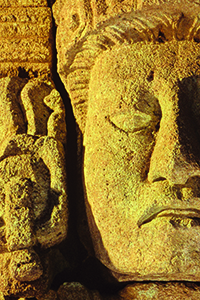 Hidden Connections: Maya Tour
Explore how the Ancient Maya civilization shared cultural similarities with Ancient Greece, Egypt, and China, and see examples of the Maya influence in your day-to-day life. 
Dates: Saturdays, February 10 - May 26
Time: 11:30 a.m.
Duration: 50 minutes
Cost: $4/person plus Museum admission; $2 MPM members

 
---
MPM Exposed Tours
Think you know MPM's exhibits? Think again! Join these adults-only tours of your favorite exhibits and learn the stories our labels don't tell you.
Cost: $5 per person plus Museum admission; $3 MPM members
Guests who take the MPM Exposed Tour must be 18+. Tour capacity is 16 people. 
Pre-registration is strongly encouraged. Tours fill up quickly!

 
March
MPM Exposed: Decline, Decay, & Death
Nothing's sure but death and taxes. Since no one likes taxes, we decided to do a tour about death instead! Learn about causes, practices, beliefs, and unexpected stories of death from different cultures around the world and through history.

Dates
March 1, 5:30 p.m. - 7:30 p.m.
March 3, 3:00 p.m. - 5:00 p.m.
April
MPM Exposed: Secrets of Sustenance
Who loves food?! We certainly do! Join us on this yummy exhibit tour to learn about ancient food-ways, the miracle of fermentation, and why chocolate makes us happy. Hear stories and play games to learn about the history and science behind your favorite foods and beverages.

Dates
April 5, 5:30 p.m. - 7:30 p.m.
April 7, 3:00 p.m. - 5:00 p.m.