The Milwaukee Public Museum is closed due to safety concerns regarding COVID-19. At this time, all outreach programming will be suspended until further notice. We are not able to take reservation requests at this time.

If you have a program scheduled between now and June 30, you will be contacted directly regarding your reservation.

We apologize for any inconvenience. If you have any additional questions, please email outreach@mpm.edu.
---
MPM is excited to bring our unique programming into the community!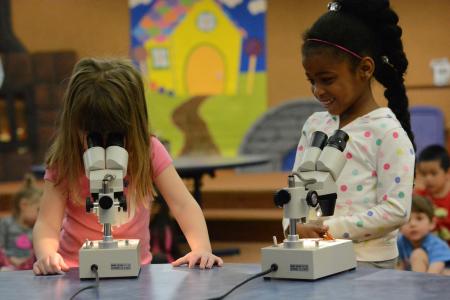 MPM on the Move seeks to improve scientific and cultural literacy. New audiences will experience traveling Museum programming that inspires curiosity and excites minds!
MPM on the Move  has something for everyone and can be adapted for different age groups. All of our programs include hands-on learning opportunities led by our experienced and talented Educators! Please see below for individual program descriptions.
Details
Programs are  50 minutes for group sizes of 10-30 people.
Audience: Adults, children, and families
Locations: Libraries, community groups/organizations, day programs, and schools
Cost*: $150 for the first program, $75 for additional program on the same day (up to four)
How to Book a Program
Complete the online form by clicking the Register Now  button. A staff member will follow-up with you within two  business days. Please email outreach@mpm.edu with any questions.
Register Now
Need help funding your reservation?
Kohl's can help!
*Travel costs may apply for programming outside a 50-mile radius from MPM.
---
Individual Program Descriptions
Get Wild in Wisconsin
Investigate Wisconsin's wildlife! Explore the rich variety of plants and animals  that populate our state. Find out why they're so important and learn ways to protect Wisconsin's habitats and biodiversity.
Participants will get the chance to model an ecosystem and to pot native wildflowers to make their gardens more welcoming to pollinators.
---
The Beautiful World of Butterflies
Butterflies may be beautiful, but that's not why they're important! Learn about the residents of MPM's Butterfly Vivarium while we get up close and personal with these fascinating animals.
Participants will have an opportunity to observe real butterfly specimens under a microscope while exploring how special their wings really are.
---
Wisconsin Rocks!
Discover how Wisconsin's landscape has evolved through time and what geology can tell us about our state's past.
Participants will get a chance to examine real fossils and use them to determine how Wisconsin's geography has changed over millions of years.
---
Mummies Mania
Explore the mysteries of mummies as we learn how and why Ancient Egyptians mummified their dead.
Participants will get a chance to help in the mummification process of a life-size model.
---
Digging up Discoveries
Enter the mind of an archaeologist! Learn what clues scientists use when analyzing artifacts and what found objects can tell us about a culture.
Participants will have an opportunity to examine real artifacts from MPM's education collection and come up with their own hypotheses about who used them and why.
---
All Things Space
Join MPM as we investigate our corner of space and beyond! Learn how our understanding of the universe has changed through the years.
Participants will get a chance to model the movement of celestial bodies and build their own scale model of the solar system.
---
Dinosaur Hunt
Join us on a trip back in time to the Mesozoic Era, where we'll learn all about dinosaurs and the scientists who study them!
Participants will have an opportunity to handle real dinosaur fossils and make their own fossil replica to take home.
---
Museum Careers
You may have visited the Milwaukee Public Museum, but do you ever wonder what happens behind the scenes? Join us as we explore the many career opportunities in the museum sector, while also utilizing real artifacts and specimens from MPM's Education collection.