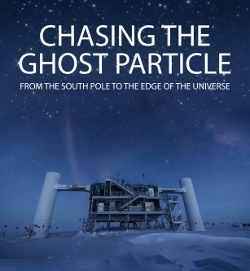 Lecture and show premiere: 7:30 p.m. November 21
Cost: Free
Reservations required by calling (414) 278-2728
Join Prof. Francis Halzen, principal investigator of the IceCube project, as he introduces our new planetarium show Chasing the Ghost Particle: From the South Pole to the Edge of the Universe. This fulldome planetarium show was jointly produced by the Wisconsin IceCube Particle Astrophysics Center (WIPAC) at UW–Madison and MPM.
Chasing the Ghost Particle takes audiences on an amazing trip from the most extreme places in the universe to inside the IceCube telescope, a huge detector buried deep in the Antarctic ice. There, scientists are using tiny, elusive particles called neutrinos to explore the insides of stars and galaxies. These ghostly neutrinos give us an exclusive look into exploding stars and black holes.
Learn more about Chasing the Ghost Particle »
Chasing the Ghost Particle will show at 5:30 and 6:30 p.m. Thursday evenings from December 5 through January 30.