This Valentine's Day, give that special someone the universe!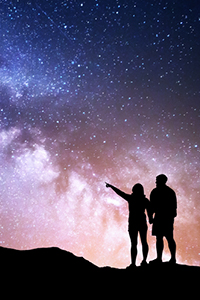 Catch the Valentine's program Romancing the Stars. Couples can embark on an out-of-this-world date at the Planetarium, complete with a romantic tour of the universe and a look at which star clusters are actually "constellations of love."
Do you ♥ love? We do, too! Join us for a special 45-minute edition of our MPM Exposed tour, and hear stories of love, heartbreak, and weird mating habits of the animal kingdom. Play matchmaker with our exhibits, be thankful you aren't an angler fish, and get the science behind love. 
A red rose and box of chocolates will be given to each couple.


Cost
Romance Package (includes tour and Planetarium):  $30 per couple
Planetarium only: $25 per couple


Dates, Times, and Tickets
Member pre-sale through January 15. Public sale opens January 16.
Tours available as add-on  when selecting Planetarium program time.
Thursday, February 13 
7:00 p.m. 


Duration
Tour length:  45 minutes
Show length:  45 minutes


tour Capacity 
16 adults (18+)