The MPM Book Club is a volunteer-led program that invites interested adults to join lively monthly discussions!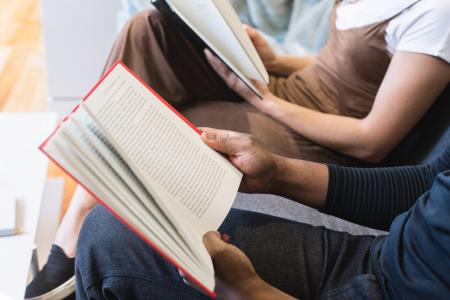 MPM docents facilitate the program and choose non-fiction books of a scientific nature that relate to Museum exhibits, research, or programs.
Dates and Times
First Mondays, September through May
12:00 p.m. discussion and brown-bag lunch; Docent-led tour to follow
Cost
FREE
All are welcome to join; no reservations needed.   
Location
Garden Galleries A/B, Ground Floor
Questions? Contact koppa@mpm.edu
---

Upcoming Books
September 10, 2018: Death and Life of the Great Lakes by Dan Egan
October 1, 2018: An Indigenous Peoples'  History of the United States by Roxanne Dunbar-Ortiz
November 5, 2018:  My Two Elaines: Learning, Coping, and Surviving as an Alzheimer's Caregiver by Martin J. Schreiber and Cathy Breitenbucher
December 3, 2018: Astrophysics for People in a Hurry by Neil DeGrasse Tyson
January through May to be announced.
---
Past Books and Dates
October 3, 2016: The Triumph of Seeds: How Grains, Nuts, Kernels, Pulses, and Pips Conquered the Plant Kingdom and Shaped Human History by Thor Hanson
November 7, 2016: In the Heart of the Sea: The Tragedy of the Whaleship Essex by Nathaniel Philbrick
December 5, 2016: World War II Milwaukee by Meg Jones
September 11, 2017: Sapiens: A Brief History of Humankind by Yuval Noah Harari
October 2, 2017: Lab Girl by Hope Jahren
November 6, 2017: Animal Weapons: The Evolution of Battle by Douglas J. Emlen
December 4, 2017: The Songs of Trees: Stories from Nature's Great Connectors by David George Haskell
January 8, 2018: The Bad-Ass Librarians of Timbuktu: And Their Race to Save the World's Most Precious Manuscripts by Joshua Hammer
February 5, 2018: Dr. Mutter's Marvels: A True Tale of Intrigue and Innovation at the Dawn of Modern Medicine by Cristin O'Keefe Aptowicz
March 5, 2018: Lingo: Around Europe in 60 Languages by Gaston Dorren
April 2, 2018: I Contain Multitudes: The Microbes Within Us and a Grander View of Life by Ed Yong