We're exploring the space where science and culture intersect, and we're doing it over drinks.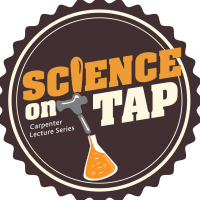 Grab a brew and pull up a chair! This evening lecture series features some of the best minds in science in a fun, social environment. From the sensation of being hugged by an octopus to quantum mechanics, Science on Tap looks to answer questions you never knew you had!
---
Upcoming Events
Climate Change on Tropical Mountains
by Sybil G. Gotsch, Associate Professor of Biology, Franklin and Marshall College
April 9, 2020 CANCELLED
In the news, we often hear about how climate change is affecting Arctic regions, but what do we know about the impact that climate change will have in the tropics?
In many tropical ecosystems, changes in precipitation patterns and seasonality are causing shifts in the structure of plant and animal communities which can in turn lead to species extinctions and a loss of ecosystem services. Rainforests at mid-elevations in tropical regions (i.e. tropical montane cloud forests) are particularly vulnerable since the area encompassed by cloud forests is small relative to lowland tropical forests and because these habitats are particularly vulnerable to changes in temperature, precipitation and humidity. Threats to the cloud forest are of concern since this ecosystem is a biodiversity hotspot and plays an important role in local and regional hydrology. Dr. Gotsch will give an overview of the impacts of climate change on different tropical ecosystems and will then discuss our current understanding of the impacts of climate change on wildlife and ecosystem services in the tropical montane cloud forest.
---
Past Events
January 16, 2020 -  Dr. Jo Handelsman  -  "Soil: A Precious Resource Under Threat"
October 17, 2019 - Dr. Cheryl Y. Hayashi - "Secrets of Spider Webs"
April 11, 2019 - Dr. Mark Siddall  - "Toxic Tales Through Time"
February 21, 2019 - Corey Jaskolski - "Technology for Exploration"
November 15, 2018 - Dr. Merlin Tuttle -  "The Incredible World of Bats — Why We Need Them"
March 29, 2018-  Dr. Takeshi Inomata - "Clues to the Origins of Maya Civilization Revealed"
November 2, 2017 - Dr. Justin Vandenbroucke - "Neutrino Astronomy at the South Pole"
September 28, 2017 - Mary Roach -  "Grunt: The Curious Science of Humans at War"
April 27, 2017 - Jennifer Casey - "The Nature of Slow Food"
March 16, 2017 - Michael E. Mann, PhD - "The Madhouse Effect"
And more!
---
Official Science on Tap Media Partner: