We're exploring the space where science and culture intersect, and we're doing it over drinks.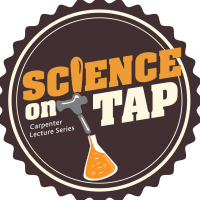 Grab a brew and pull up a chair! This evening lecture series features some of the best minds in science in a fun, social environment. From the sensation of being hugged by an octopus to quantum mechanics, Science on Tap looks to answer questions you never knew you had!
---
Upcoming Events

Soil: A Precious Resource Under Threat


by Dr. Jo Handelsman - Director of the Wisconsin Institute for Discovery at the University of Wisconsin-Madison, Vilas Research Professor, and Howard Hughes Medical Institute Professor
January 16, 2020
Soil erosion remains a largely unrecognized crisis, and yet the loss of this precious resource threatens to cause mass starvation in a few decades. Throughout history, agricultural practices such as plowing have destroyed the architecture of soil, making it more vulnerable to erosion. Many civilizations have collapsed because their soil eroded, leaving people with no way to grow crops. Today, we see the same trend in the United States and around the world. The U.S. Department of Agriculture estimates that, on average, soil erodes at a rate of almost five tons per acre per year from U.S. cropland. With soil being generated at less than one-tenth of this rate, the loss is simply unsustainable. Global warming accelerates the crisis, as more frequent severe rainstorms drive soil from the land and induce its release of carbon in the form of powerful greenhouse gases. It's a vicious cycle, but there is a way out:  To halt this crisis, consumers need to partner with farmers to make it feasible for them to adopt sustainable practices. The stakes are too high to ignore our nation's soil.
---
Climate Change on Tropical Mountains
by Sybil G. Gotsch, Associate Professor of Biology, Franklin and Marshall College
April 9, 2020
In the news, we often hear about how climate change is affecting Arctic regions, but what do we know about the impact that climate change will have in the tropics?
In many tropical ecosystems, changes in precipitation patterns and seasonality are causing shifts in the structure of plant and animal communities which can in turn lead to species extinctions and a loss of ecosystem services. Rainforests at mid-elevations in tropical regions (i.e. tropical montane cloud forests) are particularly vulnerable since the area encompassed by cloud forests is small relative to lowland tropical forests and because these habitats are particularly vulnerable to changes in temperature, precipitation and humidity. Threats to the cloud forest are of concern since this ecosystem is a biodiversity hotspot and plays an important role in local and regional hydrology. Dr. Gotsch will give an overview of the impacts of climate change on different tropical ecosystems and will then discuss our current understanding of the impacts of climate change on wildlife and ecosystem services in the tropical montane cloud forest.
Additional event details coming soon.
---
Past Events
October 17, 2019 - Dr. Cheryl Y. Hayashi - "Secrets of Spider Webs"
April 11, 2019 - Dr. Mark Siddall  - "Toxic Tales Through Time"
February 21, 2019 - Corey Jaskolski - "Technology for Exploration"
November 15, 2018 - Dr. Merlin Tuttle -  "The Incredible World of Bats — Why We Need Them"
March 29, 2018-  Dr. Takeshi Inomata - "Clues to the Origins of Maya Civilization Revealed"
November 2, 2017 - Dr. Justin Vandenbroucke - "Neutrino Astronomy at the South Pole"
September 28, 2017 - Mary Roach -  "Grunt: The Curious Science of Humans at War"
April 27, 2017 - Jennifer Casey - "The Nature of Slow Food"
March 16, 2017 - Michael E. Mann, PhD - "The Madhouse Effect"
And more!
---
Official Science on Tap Media Partner: