We're exploring the space where science and culture intersect, and we're doing it over drinks.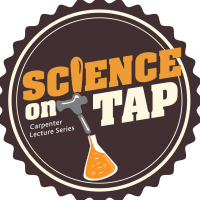 Grab a brew and pull up a chair! This evening lecture series features some of the best minds in science in a fun, social environment. From the sensation of being hugged by an octopus to quantum mechanics, Science on Tap looks to answer questions you never knew you had!
---
Upcoming Events
Please check back soon for information on our upcoming Science on Tap lecture series.
---
Past Events
January 16, 2020 -  Dr. Jo Handelsman  -  "Soil: A Precious Resource Under Threat"
October 17, 2019 - Dr. Cheryl Y. Hayashi - "Secrets of Spider Webs"
April 11, 2019 - Dr. Mark Siddall  - "Toxic Tales Through Time"
February 21, 2019 - Corey Jaskolski - "Technology for Exploration"
November 15, 2018 - Dr. Merlin Tuttle -  "The Incredible World of Bats — Why We Need Them"
March 29, 2018-  Dr. Takeshi Inomata - "Clues to the Origins of Maya Civilization Revealed"
November 2, 2017 - Dr. Justin Vandenbroucke - "Neutrino Astronomy at the South Pole"
September 28, 2017 - Mary Roach -  "Grunt: The Curious Science of Humans at War"
April 27, 2017 - Jennifer Casey - "The Nature of Slow Food"
March 16, 2017 - Michael E. Mann, PhD - "The Madhouse Effect"
And more!
---
Official Science on Tap Media Partner: