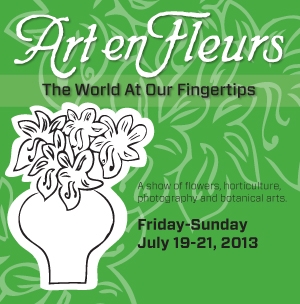 When: Public viewing and workshops: 1 p.m. to 5 p.m. July 19; 9 a.m. to 5 p.m. July 20; 9 a.m. to 3 p.m. July 21
Preview party: 5:30 – 9 p.m. Friday, July 19
Reservations: Reservations are required for the workshops and Friday night Preview Party.
Reservations for Art en Fleurs workshops and preview party cannot be made through MPM.
Cost: Public viewing: Free with regular MPM admission; lecture and classes: $15 - $100 in addition to regular MPM admission; Preview party: $80
MPM's special exhibit hall will be graced with all things botanical the weekend of July 19 – 21 as four Wisconsin member organizations of the Garden Club of America present Art en Fleurs: "the World at Our Fingertips," their triennial show and competition.
GCA members from around the country, including flower designers, horticulturalists and photographers, will be competing for some of organization's top awards over the weekend. Show entries are on display to the general public, and viewing is free with general museum admission.
In addition to the competitive displays, several lectures and workshops will be given over the course of the weekend. These events are open to the public though pre-registration is required.
Preview party:
A public preview party will be held from 5:30 – 9 p.m. Friday evening. Meet the floral designers, see who wins awards, enjoy a buffet, and participate in a silent auction. To reserve a ticket, please contact Colleen Mortonson at Owlly7@hotmail.com.
Sample Workshops and Lectures:

Tasha Tobin - "A Creative World of Floral Artistry", both lecture and hands-on workshops
Peter Zale - "A World of New, Useful and Native Plants for Gardens", Ohio State University
Hank Erdmann - "Opening Our Lens to the World of Photography" workshop geared toward intermediate and advanced photographers
Jerry Hug - "The World Through Our Cell Phone Cameras"
Ruth Stiff - "The Royal Botanic Gardens, Kew: 250 years of Botanical Discovery"

Download a workshop schedule and reservation form >>
Download a presenter information and biography sheet >>
Art en Fleurs: "The World at our Fingertips" is presented by four Member Clubs of The Garden Club of America:
Green Tree Garden Club
Kettle Moraine Garden Club
Lake Geneva Garden Club
Town and Country Garden Club