Buy Tickets
By Phone - Call reservations at 414-319-4629 or 888-700-9069.
At the Museum - Tickets may be purchased at the Museum box office located in the concourse.
*Planetarium programs are FREE with general admission.
---
Mountain Quest is tapestry of jaw-dropping action combined with rich STEM content and  physics of the real world – how climbing is a tug-of-war between friction and gravity, while skiing involves the same battle of forces in reverse, and more. Educational insights on engineering are seamlessly integrated with dramatic visuals and action. Narrated by Willem Dafoe.
 
---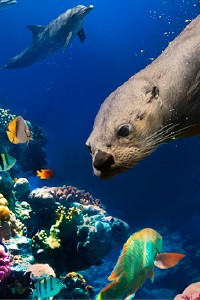 Take a global odyssey to discover the largest and least explored habitat on earth. From the coastal shallows to deeper, more mysterious worlds, hear the untold stories of the oceans' most astonishing creatures. Meet fascinating characters like the ingenious tusk fish that uses a tool to open its food. Find a cunning octopus who shields herself in an armory of shells to hide from predators. Journey through the oceans to experience these extraordinary discoveries and uncover a spectacular world of life beneath the waves.
 
---
In this great Planetarium show, you'll go on an adventure with Big Bird into outer space to learn about the Sun, the Moon, and the constellations. Supported by PNC Bank
Showing at 9:30 a.m. every Saturday morning, and for groups by request.
---
Join our alien experts — "Hopeful" and "Skeptical" – as they examine Xtra-terrestrial files and try to convince each other whether or not life exists beyond the Earth. Follow their cosmic arguments from the ocean floor to a journey across the galaxy!
---
Looking for cosmic fun this Halloween season? Would you like to meet the stars -- the stars of Halloween? Monsters, zombies, and ghosts -- and their far more terrible counterparts in space? Oh yes, space has its monsters: Black holes,   zombie stars, and   spectacular ghostly nebulae!
Special Halloween programming - Showing October 13 to 31
---
Take a live tour of the current Wisconsin night sky in this 22-minute guided Planetarium program. 
Showing daily throughout the year.