Sustainability
In October 2011, a green roof was installed on the tallest section of the Museum building, six stories up. MPM's green roof is 4,100 sq. ft. and houses more than 1,000 biotrays planted with sedum. It is estimated that this green roof will capture 90,000 gallons of storm water each year, based on an average rainfall of 34 inches each year.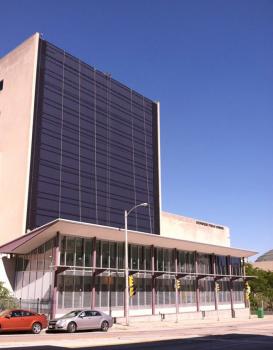 MPM also features 234 solar panels on its south-facing tower wall, each measuring about 4 feet x 6.5 feet. The panels are linked to a kiosk located on the ground floor that provides near-real-time data on the energy generated by the panels and provides information on outside environmental conditions.
MPM's newest addition is a green infrastructure project. The MPM Stormwater Collection Courtyard is a grant-funded initiative that altered our 9,000 square-foot Wells Street entrance courtyard to include native landscaping, pollinator gardens, and a porous pavement system that includes underground collection cisterns to allow for the capture and reuse of rainwater during heavy storms.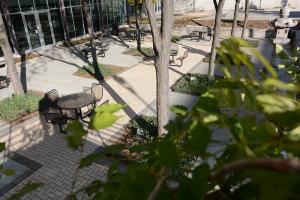 Learn more about our solar panels, green roof, and courtyard  here.
---
Accessibility
MPM strives to make its exhibits, programs, and facilities accessible to all visitors. Some experiences available:
SPARK! programming 
Explorer Kits - Canvas bags that contain themed 3D objects and braille exhibit guides available to check out 
Captioned films in the Daniel M. Soref Dome Theater 
Captioned exhibit digital media 
Courtesy wheelchairs in several sizes 
Accessible parking, entrances, restrooms, seating, and elevators 
Benches on all exhibit floors